The 2020 Jeep Wrangler EcoDiesel vs. Wrangler 2.0T: Which One Is Really Worth It?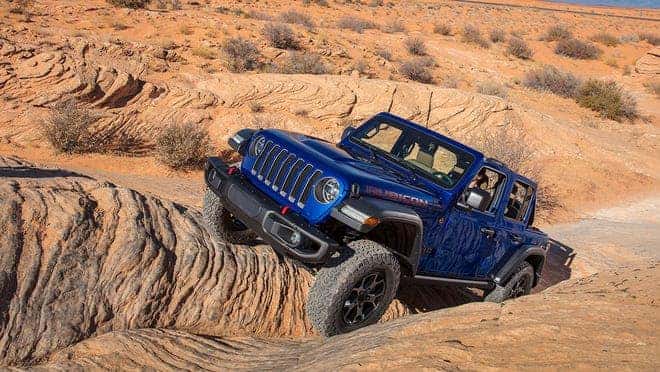 The 2020 Jeep Wrangler Eco Diesel and the 2018 Wrangler 2.0T are both top rate competitors not only in their own line of Jeeps but trucks in general. The Eco Diesel is great for those who want better fuel economy, which is sometimes seen as a weakness of Jeeps. 
The 2.0 Wrangler is a must-have for those who value the overall quality and experience of their vehicle, as this Jeep, no doubt outperforms other vehicles that cost twice as much in rocky, sandy, snowy and overall difficult terrains.
Power and Capability
The Eco Diesel has slightly less torque than other versions of this engine offered in Ram and Jeep products, more specifically 260 horsepower and 442 lb-ft of torque; this is the result of alterations needed to make the engine fit and have the capabilities that a Wrangler is expected to have, such as with being able to hold its own against 30 inches of water fording. The 2.0T has 270 horsepower and 260 lb-ft of torque.
It's quite fair to expect the diesels to be a bit slower than that of its competitor when comparing the straight-line acceleration. The Rubicon Unlimted 2.0T checks at 7.6 seconds at 60 mph as opposed to the EcoDiesel 8.0 to 8.5 seconds. Among the three engines, the diesel may be the slowest, but its impressive torque gives it a much better kick than the 2.0T. And, let's face it, drag racing is not why owners purchase the off-road leader.
In terms of the towing capability at 3,500 pounds, it's the same as the gasoline engines. This is due to the fact that towing is a function of cooling, braking, and other factors in addition to power and torque.
Fuel Economy and Range
The 2020 Jeep Wrangler Unlimited (4WD) with the 2.0T engine was rated 21/22 mpg city/highway by the EPA. It's estimated that this truck will cost $1,850 per year in gas and will take drivers 452 miles on a full tank.
At this time, the EPA has not released its fuel economy ratings for the diesel Wrangler, but Jeep representatives say that the Ram 1500 EcoDiesel and Jeep Cherokee EcoDiesel should give an idea of how it 2020 diesel ought to do, which could be about 22/30 mpg.
As far as the V-6 Wrangler Unlimited, the EPA rated 18/22 mpg with 8-speed auto. It's estimated that gas will cost $1,950 per year and provide 430 miles on a full tank, with 100$ more and 22 miles less than its estimate for the 2.0 turbo model.
Which Jeep is Right For You?
Overall, if you plan on keeping your vehicle for quite a while, the 2020 Eco is a definite recommend. Only one con is that despite the impressive fuel economy, it still won't save that much money. On the contrary, for those who do a lot of towing, the difference will come down as diesels tow more efficiently.
On the opposite perspective, one doesn't normally buy a Jeep Wrangler Unlimited with the sole purpose of saving money, the purpose of buying a Jeep is because of what a Jeep can do. Your paying for 10.9 inches of ground clearance, a 44-degree approach angle, 27.8-degree breakover angle, and 37-degree departure angle. 
The EcoDiesel is great for those who value its quick feeling with its impressive turbo torque and would like to save some money. The 2.0T is for those who truly believe can indeed buy happiness and want to pay for pure experience and joy.
For information on for both of these Wranglers, visit Cape Coral for more information.
Photo Source/Copyright: USA Today