Go Off-Road With the Jeep 4×4 Systems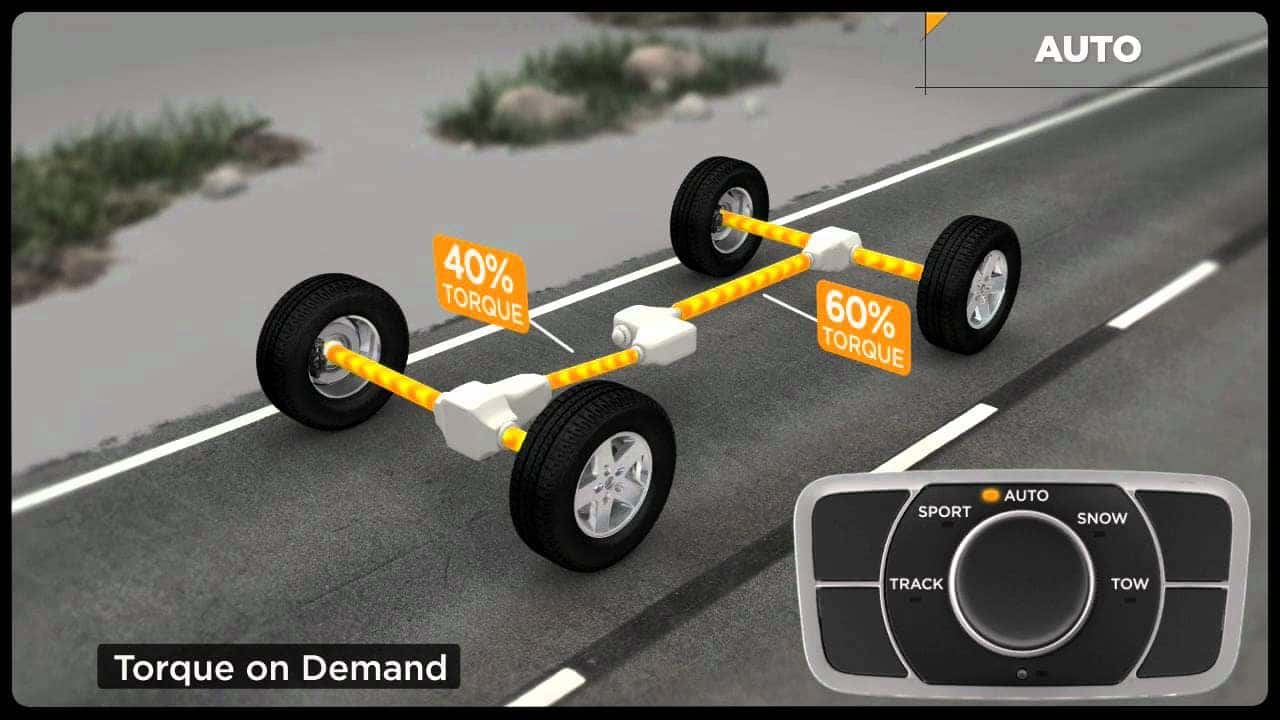 Nearly the entire Jeep lineup comes standard with – or the option of a 4×4 system to engage while venturing off-road. That being said, there's no such thing as a generic 4×4 system when it comes to Jeep – some are exclusive to a model while other are featured across the lineup. Want to learn more about the 4×4 systems and the Jeep vehicles they're featured on? Check out our detailed overview below.
Active Drive Systems
Jeep offers a couple different Active Drive 4×4 systems and they're available on the following 4×4 models: Jeep Renegade, Jeep Compass and Jeep Cherokee. Both the Jeep Renegade and the Jeep Compass models are offered with the same two Active Drive 4×4 Systems, while the above-mentioned Jeep Cherokee features its own Active Drive System. The Active Drive 4×4 System actively transitions from four-wheel-drive to front-wheel-drive, making all models equipped with it more efficient whether in the city or off the beaten path. Trailhawk trims of both the Renegade and Compass models feature an additional 4×4 system complete with Selec Terrain Traction Management, allowing the vehicles to adapt to different terrain on the fly. Geared towards conquering the road off the beaten path, the Trailhawk trims mentioned above also feature an Active Drive Low 4×4 System – a system more advanced than the basic Active Drive. Special settings on Trailhawk trims offer a 20:1 crawl ratio for those looking to conquer rocky terrain.
As for the Jeep Cherokee, it is sold with various Active Drive Systems, including Active Drive I, II and Lock 4×4. Active Drive I features a system that engages four-wheel-drive automatically when necessary as it monitors the wheel slippage and applies torque to specific wheels when the vehicle demands it. Active Drive II has all the same features as Active Drive I plus a bonus low mode so that drivers can enjoy extra low-speed traction. Additionally, the Jeep Cherokee Trailhawk model features a standard Active Drive Lock system complete with a mechanical rear axle lock and the Selec-Terrain rock mode.
Command-Trac & Rock-Trac Systems
Specifically designed to be paired with the Jeep Wrangler, the Command-Trac and Rock-Trac systems all feature a transfer cased to help protect the Wrangler's most important equipment from damage. The Rock-Trac system is exclusive to the Wrangler Rubicon trim as it offers additional torque a 4:1 gear ratio. Jeepers looking to go rock crawling definitely make use of this system.
Quadra-Trac Systems
As the top of the lineup, the Jeep Grand Cherokee offers numerous Quadra-Drive/Trac systems. There's the Quadra-Drive II 4×4 system, Quadra-Trac I, Quadra-Trac II and Quadra-Trac SRT systems. The available Quadra-Drive II comes standard with a full-time active 4×4 system and a rear electronic limited-slip differential. Meanwhile, the Quadra-Trac I system comes standard with a brake lock differential and all-weather capability. The Quadra-Trac II system offers the same features along with the Selec-Terrain system and a standard two-speed low transfer case. Performance-oriented SRT trims such as the Grand Cherokee SRT Trackhawk come standard with the Quadra-Trac SRT system – a full time 4×4 system with the ability to send 100 percent of the torque to a single wheel, featuring a single-speed transfer case and the Selec-Trac system with six modes: Track Sport, Snow, Tow, Auto, and Custom.
Whether you're a weekend warrior, a lifelong Jeeper willing to get down and dirty, or interested in embodying Jeep's spirit of adventure, the Jeep lineup offers something for everyone. Explore the Jeep inventory near Fort Myers at Cape Coral Chrysler Dodge Jeep Ram and schedule your test drive today!
Photo Source/Copyright: Jeep