A Jeep Gladiator That May Be Called "Hercules"?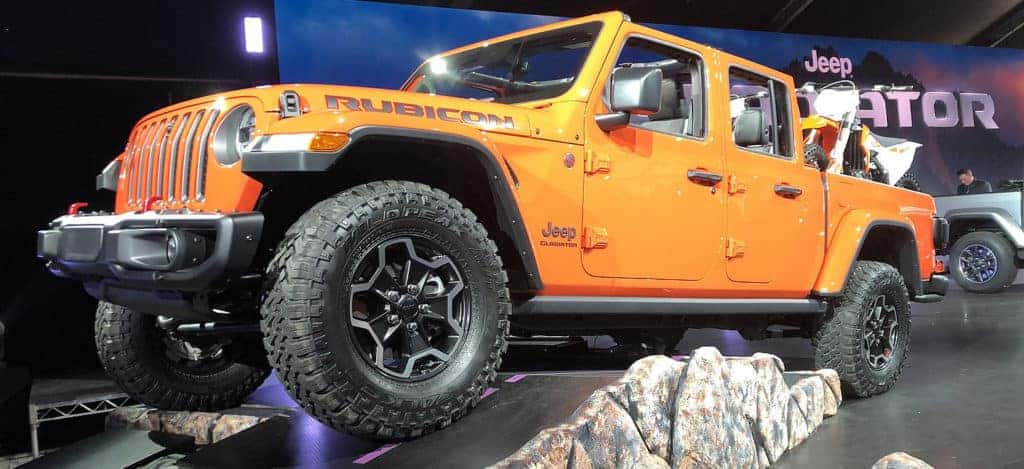 There's a new pickup in town and the buzz behind it has buyers already excited for the new "family" member being added. It even has motorillustrated.com describing it as Jeep "finally deciding to take a Wrangler Unlimited, stretch it and put a pickup bed out back".
That's quite a description.
In the 2019 North American International Auto Show (NAIAS- Jan 14-27) there seemed to be a lot of hype surrounding a pickup that Jeep is developing. The long-rumored pickup truck is rumored to have a high-powered Gladiator, and it's reportedly named The Hercules. But it was a surprise for Jeep president Tim Kuniskis when they mentioned it to him at the NAIAS.  
"Hercules? Wow. That's getting a lot of traction today," he said. "I think the pictures are cool–I don't know who made them– but they look interesting."
Approximately 3,000 Jeeps with high-powered engine swaps are sold every year and with it being a sizable collection it makes Jeep take notice but not enough to engineer a cost-efficient cooling system required to stuff a V-8 with more than 6.0 liters under the hood. The Jeep Gladiator with the 6.4-liter V-8 modification under the hood could be sold for about $80,000, However, with more than 3,000 customers already making the swap, that is motivation enough for the automaker. So it's the buyers' motivation that makes the rumored Hercules a thing.
Enthusiasts have made their own must-have list that the Hercules must include such as Beadlock wheels, larger off-road tires, a front skid plate, a blackout grille, a steel front bumper, rock rails, ram air hood, and vented high fenders. But if Jeep wants to beat the Raptor they're going to need more than the Gladiator's naturally-aspirated V6 engine that generates 285 horsepower and up to 260 lb-ft of torque.
Kuniskis speculates that the rumors for the name "The Hercules" stemmed from his comments at the 2018 LA auto show that the Gladiator's low-speed rock crawling features and high-speed off-road modes tipped off enthusiasts that a dune-busting, high-powered Gladiator must be in the works. Kuniskis also mentioned that the Gladiator would have a new off-road setting designed for high-speed desert running and what he was most excited about was the setting for the new Gladiator, according to thedrive.com.
Rumors really started to get heated when on January 8th of 2019, a staff member at Motor1 spotted information posted on the Jeep Gladiator Forum. Motorauthority.com reported that "a forum staff member published what he calls inside information about Jeep looking into a high-performance Gladiator Hercules along the lines of a Ford Ranger Raptor. Which will not be coming to the U.S., according to motorauthority.com   
Enthusiasts will have to hold their excitement just a little bit longer as there has not been a definitive answer just yet and no supplier contracts have been signed. The Jeep Gladiator Forum said prototypes are being gathered, and Jeep's design chief, Mark Allen, told Autoline After Hours at last year's LA Auto Show that Jeep would expand into the high-speed off-road market. Jeep Gladiator Forums also reported that "Hercules" is a juiced-up, jacked-up desert racing Jeep and (it's) being evaluated for market viability. So there are just a few prototypes testing".  
If you're interested in test-driving any other Jeep model, make sure to check them out at the Cape Coral Chrysler, Dodge, Jeep, RAM dealership. We are open Mon-Fri from 9:00 A.M.- 9:00 P.M., Sat from 9:00 A.M.- 8:00 P.M. and on Sundays from 10:00 A.M.- 7:00 P.M.  
Photo Credit: motorillustrated.com