Jeep Unveils New Concept Vehicles at 2021 Easter Jeep Safari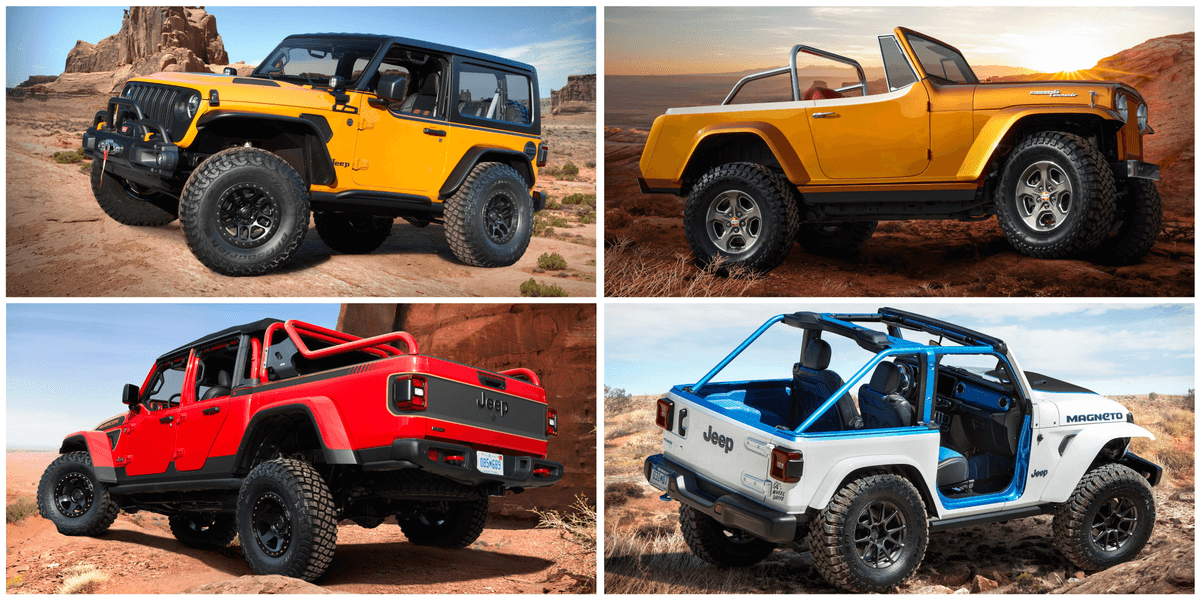 Jeep has released a full lineup of concept vehicles at the start of the annual 2021 Easter Jeep Safari that takes place in Utah's backcountry, and for this year, four Jeep concepts were unveiled. Starting from March 28, 2021, through April 3, 2021, this week-long event is a yearly tradition where Jeep enthusiasts gather and drive through country trails and enjoy the great outdoors with fellow Jeep riders. Jeep's recent unveiling of their new concept vehicles showcases Jeep's drive to stay innovative and competitive in today's automotive industry.         
Jeep's New Concept Vehicles for 2021
Jeep is investing significantly in electrified power and performance powertrains that still offer exceptional off-road capabilities. Jeep's fun-to-drive freedom is felt in every vehicle and consumers will not be disappointed with the line-up of concepts unveiled by Jeep this year. 
Jeep Magneto
The first concept to be revealed is the Jeep Magneto, a fully battery-powered-only Wrangler that is stealthy and equipped to be a very capable rock-climber in rough terrain. The engineers at Jeep made sure the Magneto was built on a zero-emissions platform but that still retains 4×4 performance and the added benefits of eco-friendly driving. Connected to a six-speed manual transmission, the Magento's e-motor is capable of 285hp and 273 lb-ft of torque. The Magneto's exterior is very distinctive and eye-catching with a Bleach White color on the body and Surf Blue accents in the interior and on the roll-cage that give it a tasteful two-tone look. The Magneto also comes equipped with 35-inch tires for any terrain type.   
Jeepster Beach
Inspiration for the Jeepster Beach came from combining certain elements from the 1968 Jeepster Commando and the 2020 Jeep Wrangler Rubicon. Jeep claims the Jeepster Beach concept will be perfect for driving through sandy environments near the shore and ultimately, the beach. The interior color combination is very expressive that gives the Jeepster Beach a retro vibe with red color for the upholstery and a light creamy yellow for the dash. The engine consists of a 2.0 L turbocharged 4-cylinder paired to an eight-speed automatic transmission. The engine is rated up to 340hp and 369 lb-ft of torque that will enable this Jeep concept to drive through sandy terrain with ease. 
Jeep Red Bare
As the name suggests, this Jeep concept was revealed in Jeep's iconic Firecracker Red color that takes some inspiration from the Jeep Gladiator's body. Matte black graphics and gold accents are seen throughout the exterior and its 37-inch all-terrain tires are wrapped in black-colored rims. The rear compartment area of the Red Bare consists of an open-air cabin that eliminates body panels for drivers that favor open-air driving. The powerplant of this concept is made into a 3.0 L EcoDiesel Turbocharged V6 engine that is capable of 260 hp and 442 lb-ft of torque. Jeep's engine stop-start (ESS) technology will come as standard equipment.
Jeep Orange Peelz
One of the smaller concept vehicles by Jeep, the Orange Peelz concept is a compact two-door Jeep that packs some serious performance and vehicle features. Powered by a 3.6 L Pentastar V6, the Orange Peelz is capable of 285hp and 260 lb-ft of torque paired to an eight-speed automatic transmission. Jeep added a JJP cold-air intake and a JPP cat-back exhaust system for drivers that want a little extra fun during accelerations and quick turns. The concept also comes equipped with JPP 5-inch off-road LED lights that will offer Jeep drivers 4,800 lumens of extra lighting to light up dark trails and country roads. Drivers also don't need to worry about their windshield cracking or scratching due to Mopar's Corning Gorilla Glass that comes equipped with the Orange Peelz concept.
Previous Concept Vehicles Return
Two Jeep concept vehicles will also make a reappearance during the 2021 Easter Jeep Safari with improvements made to their functionality and exterior. The "Farout" and "Top Dog" concepts will be joining Jeep's new line-up of concept vehicles that will give Jeep fans and new members even more reasons to be excited for this year's Easter Jeep Safari.
 Jeep Farout
For those that want to travel long distances across the country, to a national state park or their favorite camping grounds, the Jeep Farout concept is the most fuel-efficient out of the bunch that offers superb fuel economy according to Jeep. The Farout concept is equipped with a 3.0 L EcoDiesel V6 engine that will enable adventure-seekers to travel long distances, up to 425 miles on a full tank of fuel.
Jeep Top Dog
For the Top Dog concept, Jeep made full use of the Jeep's cargo-carrying capability by eliminating the regular cargo box in place of a custom PCOR flatbed storage system. The Top Dog is Jeep's most capable concept for storage and cargo capacity that is ideal for carrying a lot of supplies on camping and road trips. The Top Dog is powered by a 3.6 L Pentastar V6 capable of 285hp and 260 lb-ft of torque and paired to an eight-speed automatic transmission.
Jeep's Strategy for the Future
With the release of four new concept vehicles, we know that Jeep is still innovating with a passion to deliver to consumers new and exciting offerings for the future. Prospective buyers can also know what Jeep values in new vehicle design when we get to see new concept vehicles released. For the future, we can expect Jeep to work closely with Mopar in their Jeep Performance Parts (JPP) division to provide Jeep enthusiasts and off-road junkies with high-quality aftermarket performance parts and accessories.  
For more information on available Jeep models, you can contact us at Cape Coral Chrysler Dodge Jeep Ram and take a look at our SUV inventory for amazing deals. By filling out our contact form, we can also provide you with the latest information and answer any questions you may have about buying or leasing a new or pre-owned Jeep.
Image Source: Jeep