Join the Jeep Badge of Honor Program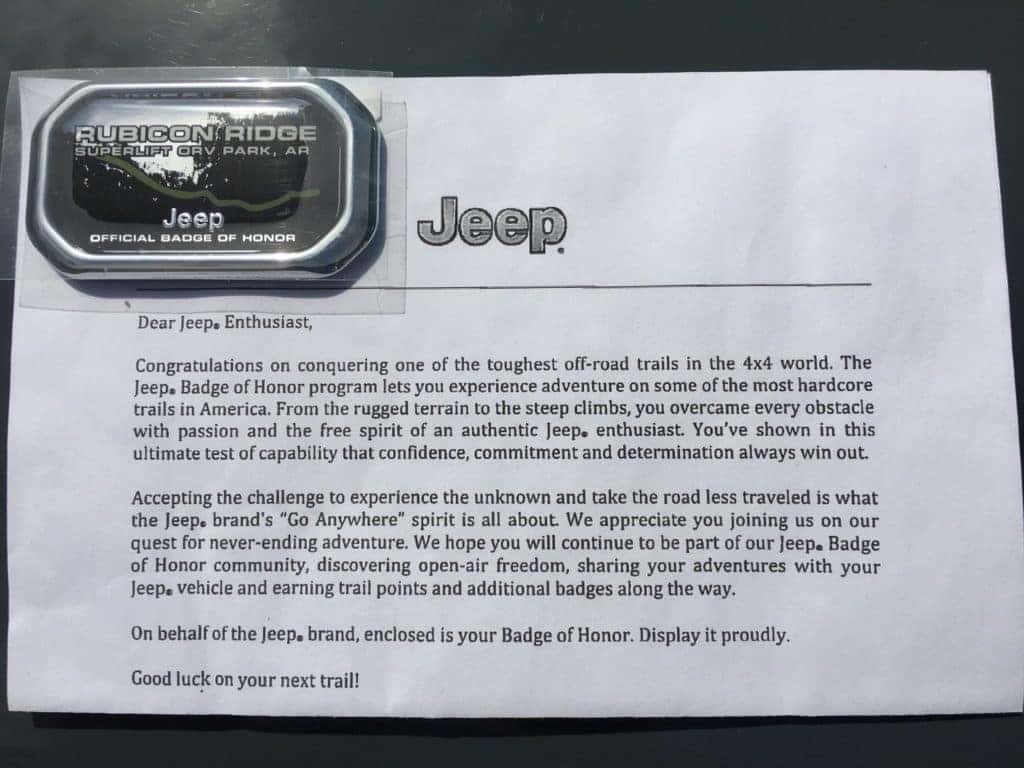 Ever hear of the Jeep® Badge of Honor program? It's almost called a secret club among Jeepers, where the only way to know if someone is a part of the tribe, is by telling you themselves or sporting an Honor badge on their Jeep vehicle. It's not all for show though. The Jeep Badge of Honor program is a true testament to guts and glory when conquering some of the hardest off-road trails known to test the limits of a Jeep.
Jeep Badge of Honor Program
The Jeep Badge of Honor Program is a completely free program that honors Jeepers for conquering tough off-road trails. All a consumer has to do is download the Jeep Badge of Honor Program app onto their iPhone or Android, and then pick a trail to conquer. The Badge of Honor app allows users to discover trails, earn hard badges, and engage with other Jeepers online as a part of the official Jeep community.
Owned, operated, and developed by the Jeep brand and FCA US LLC., this is the real deal. The Jeep Badge of Honor app is the official off-road app used for the program and lists hundreds of thousands of legal off-road trails in the U.S.A. Jeep has only designed 49 of them as worthy trails to earn a Jeep Badge of Honor. These were most likely based on difficulty and technical challenge level, or why even call it a challenge?
Getting a Jeep Badge of Honor
So here's what to do if you want that Jeep Badge of Honor swag. Download the free Jeep Badge of Honor app, browse the designated Jeep Badge of Honor trails (the app will show you the closest location to you), pick a trail, and then drive over. The app will register the vehicle's location once at the trail, and by simply hitting the "check-in" button, you're done and you qualify for a badge!
But real Jeepers will actually take on the trail, right? That's part of the fun. Plus, it feels more like that Badge of Honor was earned.
After checking into a trail, users can check out their profile in the Jeep Badge of Honor app and view their points, trails, and badges earned. If they desire, they may choose to receive an actual hard badge to put on their Jeep vehicle by clicking "View and Request Badges" in the app. There, they can pick a badge they are eligible for, fill out a form with the required information, and submit it to Jeep.
In 8-12 weeks, the Jeeper will receive the requested hard badge, along with a letter from Jeep congratulating them for conquering the trail. What a cool way to show off what your Jeep is capable of and test the 4×4 system it's known for. And if you're a not a Jeeper just yet, no problem. Stop by Cape Coral Chrysler Dodge Jeep Ram to find your Jeep today.
Photo Source/Copyright: Jeepsies.com