Join Us for the Rock 'N' Rescue Fundraiser to Support the Cape Coral Animal Shelter

Everyone loves animals, and so does our family at the all new new Cape Coral Chrysler Dodge Jeep Ram! During the first week of November, the Cape Coral Animal Shelter (CCAS) will be hosting a fundraising event known as "Rock 'N' Rescue". The event will be taking place Saturday, November 3rd, from 6 to 10 pm at the Cape Coral Yacht Club ballroom, and we hope members of the community will join us there.
Cape Coral Animal Shelter
The Cape Coral Animal Shelter is currently in its beginning stages of construction and raising funds to build a 501(c)(3) nonprofit, no-kill animal shelter. Dedicated to creating a special bond between people and animals by means of adoption services, medical care, education, and training for the prevention of cruelty and abandonment, the Cape Coral Animal Shelter will be a safe place where animals will receive the care they need and remain until they are placed in their new, qualified home.
Rock 'N' Rescue
Because the Cape Coral Animal Shelter is in the process of construction at this time (November 2018), the fundraising event is giving the community the opportunity to give a little, or give a lot, to the overall project. Event goers will be able to purchase engraved pavers for placement at the shelter. With each purchase, or donation, the purchaser may receive more benefits as they go up a sponsorship level, such as a message that can be added to the pavers to commemorate a pet, family member, or to recognize a business. Cape Coral Chrysler Dodge Jeep Ram has stepped up as a Gold Sponsor. What will you be aiming for?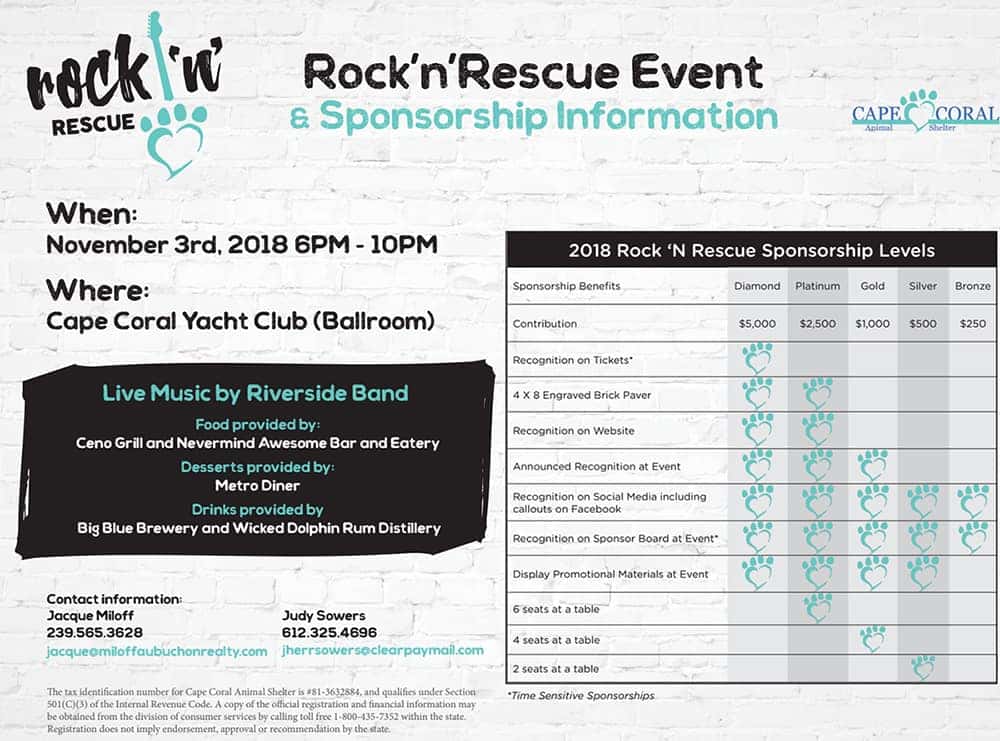 The Rock 'N' Rescue promises to be quite the fundraiser for the new animal shelter. Restaurants Nevermind Bar and Eatery, along with Ceno's Grille, will be providing guests with dinner, and Metro Diner is providing the desert. Supporters can enjoy the music played by the Riverside Band throughout the evening, and if looking to do more for pets that need a home, there will be a silent auction held in the evening. Supporters can also purchase a "Rock'N' Rescue" T-shirt – every little bit helps.
Tickets for this event are $100 per person or $700 for a table of eight. A single ticket includes the dinner and two drinks, but a cash bar will be open for additional refreshments. If looking to get in on the engraved pavers, there are current early bird prices until November 3rd. Four-inch by eight-inch pavers have been discounted from $150 to $125, and the larger eight-by-eight-inch bricks have gone down from $250 to $225. Paver purchasers will also be supporting LARC, Inc., a local 501(c)3 organization that serves individuals with disabilities and their families, and will be making the engraved pavers.
Head on over to "capecoralanimalshelter.com/rock-n-rescue.html" to purchase your ticket for the event. Remember, it's on Saturday, November 3rd from 6 to 10 pm at the Cape Coral Yacht Club ballroom. Join the Cape Coral Chrysler Dodge Jeep Ram family in making a difference.
Photo Source/Copyright: capecoralanimalshelter.com