Mopar Unveils Their 1,000 HP Hellephant at SEMA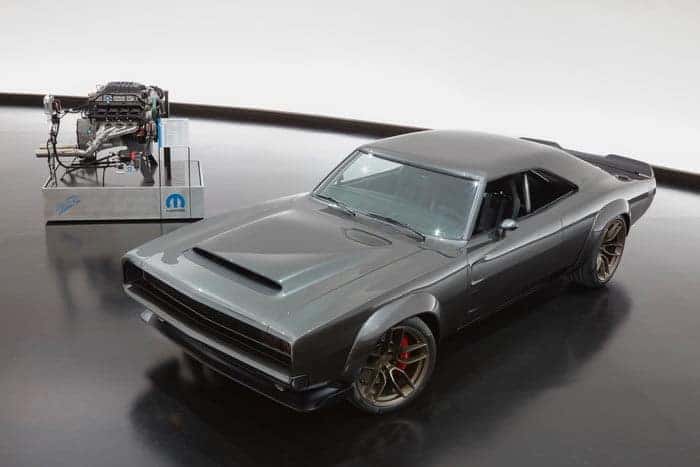 Mopar, the performance parts division of Fiat Chrysler Automobiles (FCA), has been teasing automotive enthusiasts all week with their big Specialty Equipment Market Association (SEMA) show announcement. Never the one to disappoint, Mopar delivered when they unveiled their "Hellephant" – an outrageously massive V8 engine capable of producing 1,000 (!) horsepower and 950 lb-ft of torque. But this Hellephant isn't just for show, no – Mopar actually wants you to place this monster under the hood of your car. Check out what makes the Hellephant so powerful.
What's a Crate Engine?
Known in the automotive industry as a "crate engine", the Hellephant is sold as a stand-alone item that professional builders or hobbyists can put into their project cars. In case you were wondering, yes, these types of engines are customarily shipped in crates. While crate engines can and do come in all sizes, it's usually big American V8s that are assembled in this manner, and the Hellephant might be lining up to be the greatest one yet.
A Little History Lesson
In the heyday of American muscle cars, during the 1960s, few cars earned as much respect as those powered by the Hemi V8 engine – commonly referred to as the "Elephant Motor" due to its large size. The most powerful of those engines, the 7-liter (426 cubic inches of displacement) engine was originally designed and produced for use in NASCAR. Avid car collectors nowadays seek out 426 Hemi cars like the Plymouth Road Runner and the Dodge Charger, and cheekily enough, Mopar marked the start time of their SEMA press conference at 4:26 p.m. FCA is once again manufacturing and selling Hemi-powered cars with their most potent engine (a 6.2-liter supercharged Hemi) resting under the hood of the Challenger Hellcat. Mopar opted to fuse together the Hellcat moniker with the word elephant as a nostalgic nod to the 1960s engine, giving us the Hellephant – complete with an increased displacement of 7.0-liters.
Showing Off
To showcase the full potential of the all-new Hellephant, Mopar presented it at SEMA under the hood of a 1968 Dodge Charger, aptly christened the "Super Charger." The classic car features quite a few modifications, including a wide-body conversion, 20-inch wheels, fiberglass fender flares and hood, and a lowered suspension. Additionally, this Super Charger has been updated with a modern six-speed manual transmission, while its menacing look can be attributed to the full-width grille and set of Hellcat headlights as opposed to its signature flip-over headlights.
According to Mopar, the Hellephant is designed to fit pre-1976 vehicles (not street legal on anything newer than that), on both street and off-road applications and comes with all of the electronics and sensors needed to make it work under the hood. A front-end accessory kit that adds an alternator, a power-steering pump and much more will also be offered as an upgrade down the line. The Hellephant will be available to order sometime in the first quarter of 2019; pricing has not been announced as of yet. Don't just take our word for it, check out Mopar's video and listen to that sweet engine whine below:
Follow Cape Coral Chrysler Dodge Jeep Ram on social media to stay up to date with the latest Dodge news.
Photo Source/Copyright: Mopar & Motor1