Stellantis Makes $229 Million Investment to Accelerate Electrification Efforts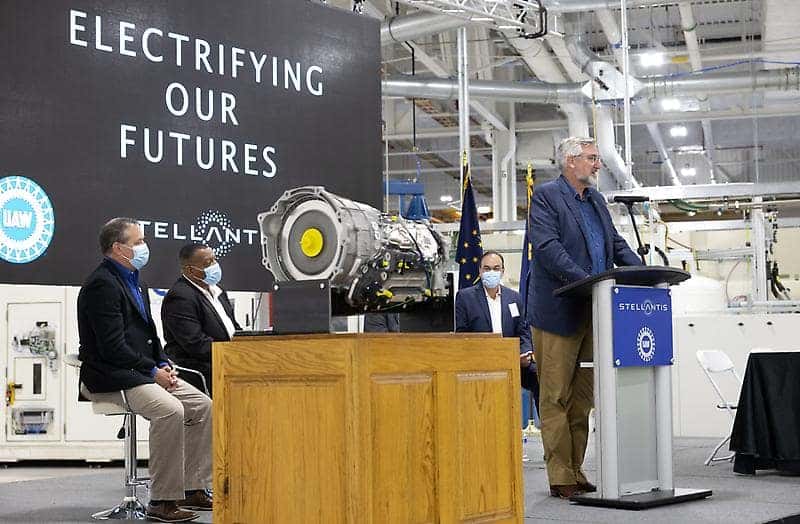 In addition to the $35 billion investment Stellantis has committed to electrification and vehicle software, the company recently announced another investment of $229 million for its three factories in Kokomo, Indiana. The main objective for the second investment is to reach 40 percent low-emission vehicle sales in the U.S. market by 2030. Head of Powertrain Operations, Brad Clark, announced at an event at the Kokomo Transmission Plant. Stellantis is confident these investments will accelerate its electrification strategy to gradually phase out gasoline-powered vehicles and prioritize the production and design of electric vehicles.    
The Investment in Detail
Specifically, the multi-million dollar investment will support the "retooling" of the Kokomo Transmission and Casting factories to be better equipped to produce the fourth generation of the eight-speed transmission. According to Stellantis, this new transmission will be paired with internal combustion engines, including hybrid and plug-in hybrid powertrains for the Jeep, Ram, Chrysler, and Dodge brands. The company also claims that it will offer improved fuel economy, increased electric range, and assist vehicles in meeting stricter emission regulations in the future. In addition, claims about the new transmission's versatility suggest that it can be adapted for various applications, allowing individual brands to adjust production as consumer demand for EVs grows over the next ten years.     
A New Fourth-Generation Transmission
The new generation transmission Stellantis will put out is a combination of improved components such as a transmission gear train/clutch, mechatronics, mechanical pump, and E-pump motor. Other upgraded parts include e-motor, torque converter, and power electronics. Producing the new transmission requires a newly electrified transmission assembly line to be put together, which is precisely what Stellantis will be building shortly. The new transmission production is expected to begin later this year and soon be available in the new Stellantis vehicle. 
Transitioning to an All-Electric Future
The overall investment Stellantis is already putting in motion is to ensure the manufacturing capability of powertrains and electric vehicle components are fluid and ready for mass production. By leveraging the company's workforce and "retooling process," brands such as Dodge, Jeep, Ram, Chrysler can be better equipped for the electrification process. Transitioning to an all-electric future is both exciting and challenging, involving significant amounts of financial support and infrastructure changes. Still, Stellantis is more than capable of electrifying its vehicles under its umbrella of brands. Casting, machining, and assembly are the three focus areas Stellantis is targeting for improvement vital for an all-electric future.     
Always stay up to date with company news from Stellantis by connecting with us at Cape Coral Chrysler Dodge Jeep Ram, and stay informed of auto industry trends, vehicle information, and so much more! We have amazing limited-time deals on our most popular inventory of Challengers, Chargers, and Durango SUVs. If you are looking for something more off-road-oriented, check out our selection of Jeep Wranglers or our new Grand Cherokee L Series. Do you need to haul heavy equipment? Our inventory of Ram 1500s is more than capable of handling the most challenging jobs. Are you going on a family road trip soon? Visit us and take a tour of our on-site inventory of Chrysler Vans today! If you have any questions or are looking for a specific vehicle, fill out our contact form, and we'll be more than happy to assist you throughout your shopping experience.
Image Source: Stellantis