Two New Ram Trucks to Debut for 2019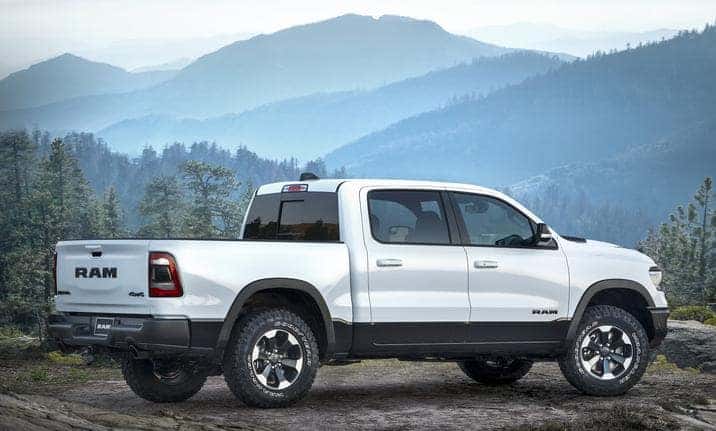 It's a good time to be a fan of Fiat Chrysler Automobiles (FCA). With the automotive group winning ideal vehicle awards for several FCA brands, investing in the Chelsea Proving Grounds to test FCA autonomous vehicles for retail, and recently, FCA is looking on new ways to make use of their new "Global Medium Engine" by turbocharging an inline six-cylinder engine. However, when revealing their five-year road map, FCA never mentioned a new midsize Ram pickup truck.
Surprise!
New Ram Midsize Pickup Truck
It's been a long ways away, but the last midsize truck to come from Ram was back when the automotive brand was still in cahoots with Dodge, known as Dodge Ram trucks. Thus, the last midsize truck we had from either automaker was the Dodge Dakota, killed off in 2011. Around that time, a focus on full-size trucks was the new game, and once Ram split-off from Dodge, that was the majority of their lineup.
Automotive News reported that Ram has decided to enter the automarket again with their own midsize truck, given the sudden upsurge of midsize trucks currently surfacing throughout the auto industry. This round will feature a midsize pickup truck with a body-on-frame design. Sound familiar? It should, because there has been similar talk surrounding the upcoming Jeep Wrangler pickup truck.
This baby Ram is set to come out in 2020 or 2021, and we wonder how it will size up with the rest of the competition. If Ram places their new 48-volt mild-hybrid eTorque system into the powertrain of the new midsize Ram pickup truck, then they may just have a shot. We do wonder about the amenities, though. Afterall, a baby Ram doesn't sound like the kind of truck one would use for heavy payloads or towing a boat.
2019 Ram Rebel 12
2019 isn't here yet, but Ram has been releasing special editions of Ram trucks nonstop. First, the Ram Harvest Edition for heavy duty trucks was released, quickly followed by the Ram 2500 Longhorn Rodeo Edition and then the Ram Mojave Sand package for the Ram 2500 Power Wagon. Next up is the 2019 Ram Rebel 12.
Think of the Rebel 12 as a high-end luxury version of the already off-road capable pickup truck. The Ram 1500 Rebel already comes equipped with a factory lift, electric-locking rear diff, Bilstein shocks, 33-inch Wrangler DuraTrac tires, skid plates, and tow hooks. Consumers can also opt-in for an optional height-adjustable active-level four-corner air suspension for added capability. For more power, the Rebel can also trade out the 3.6-liter V6 engine (with eTorque) for the 5.7-liter V8 engine with eTorque for 395 horsepower and 530 lb-ft of torque.
"Customers have been asking for additional high-end features on Rebel and now we're delivering with benchmark technology and materials wrapped in off-road capability," Jim Morrison, Head of the Ram Brand.
And deliver they shall. The 2019 Ram 1500 Rebel 12 will feature a highly upgraded interior that comes with all the high-tech a consumer could ask for. Keeping up with the number "12", the Rebel 12 interior will feature Ram's gigantic, 12-inch Uconnect 4C touchscreen display to allow consumers to operate multiple apps via the split-screen mode. This touchscreen also operates the birds-eye view of the truck for parking and smartphone integration via Apple CarPlay and Android Auto.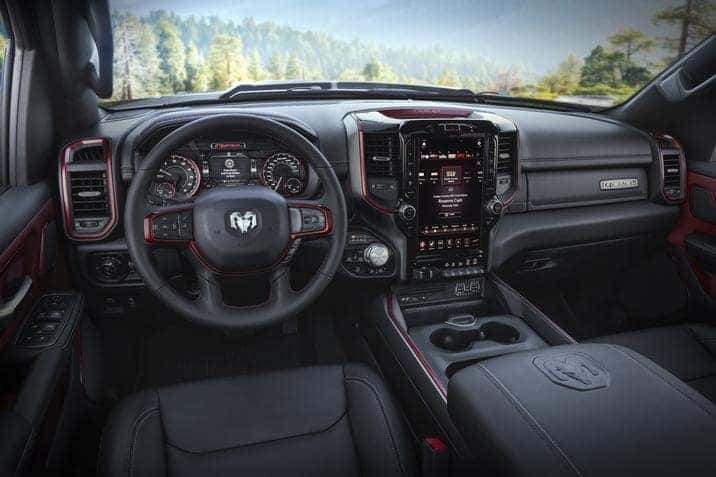 For the finest sound system, Ram will be placing a 19-speaker Harman Kardon system with a 900-watt surround-sound amplifier, 10-inch subwoofer, and active noise cancellation technology. Consumers will be able to enjoy the tunes while leaning back into leather-trimmed seats with heating functionality in the front row. We can hear the "awes of relaxation" now.
Slated to be available in the fourth quarter of 2018 (asap, basically), expect to see the 2019 Ram Rebel 12 soon enough. This special edition will have a starting MSRP of $48,685 (plus destination fee). Looking for yours? Give us a call at Cape Coral Chrysler Dodge Jeep Ram, and we'll keep you up-to-date for when we have the Ram Rebel 12 on the lot.
Photo Source/Copyright: EquipmentWorld.com