The 2019 Dodge Challenger SRT Hellcat Redeye is Ready for You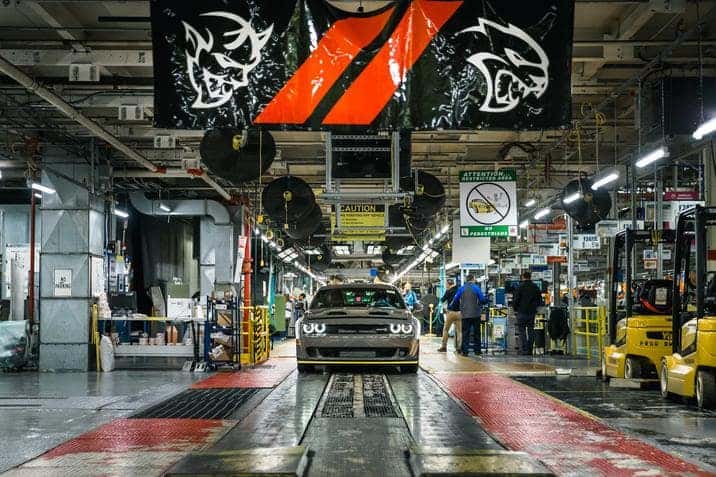 Well it's the moment all muscle car fans have been waiting for. The 2019 Dodge Challenger SRT Hellcat Redeye is rolling off of the production line this month (October, 2018). Soon, they'll be taking up dealership showrooms and pushing aside the Dodge SRT Demon for the spotlight. With SRT Demon-like qualities, heritage inspired style, and ultimate performance, the new Dodge Challenger SRT Hellcat Redeye is the muscle car to get for true, diehard, high performance enthusiasts. Get ready to rev those engines!
It's been a long-time coming, but the Dodge Challenger SRT Hellcat needed a bit of a refresh to further set it apart from the rest of the lineup, especially since the 2017 Widebody package is no longer restricted to just the SRT Hellcat trim. No, for 2019, Dodge chose to do a little something special and do more than give the SRT Hellcat a power boost – more on that in a bit. For the 2019 model year, Dodge decided to bring back some of their heritage style, like they did with the Dodge Challenger T/A renewal, by paying tribute to Mopar designs of the past.
Dodge captured this by designing a new, and functional, dual-snorkel hood scoop for the 2019 Dodge Challenger SRT Hellcat. That functional hood scoop adds ten ponies and six lb-ft of torque to the current Challenger SRT Hellcat specs, now 717 horsepower and 656 lb-ft of torque. This new Challenger SRT Hellcat is nothing compared to the SRT Demon-inspired Redeye. Still powered by the supercharged 6.2-liter V8 HEMI engine, who knew Dodge could push the envelope just the right amount for a total of 797 horsepower and 707 lb-ft of torque.
Some may be thinking, if it's the same engine and the same hood scoop, how does the 2019 Dodge Challenger SRT Hellcat Redeye get so much more power? Well, as noted, the Redeye is inspired by the Dodge Challenger SRT Demon. That means similar advancements, like upgrading a total of 25 components, including an increased-capacity supercharger, stronger connecting rods and pistons, boost pressure increase, valvetrain modifications, a higher 6500-rpm redline (a higher limit for max rpm), an additional dual-stage fuel pump, an increased-capacity airbox, and an improved lubrication system.
"For '19 we're going to do a Redeye. It's a Hellcat that's been possessed by a Demon…We've got a Hellcat body, basically suspension and platform, and then we've got the Demon engine, [but it has a bit of a] different calibration than the Demon engine." – Steve Beahm, head of Passenger Car Brands-Dodge, SRT, Chrysler, and Fiat for FCA North America
Although the 2019 Dodge Challenger SRT Hellcat can be equipped with either a six-speed Tremec manual or an eight-speed Torqueflite automatic transmission. The Hellcat Redeye only comes with an eight-speed automatic transmission with an upgraded torque converter for an 18-percent torque multiplication increase. Both models can delete the rear-seats to shed off 50 more pounds, just like the SRT Demon. Both, the 2019 Dodge Challenger SRT Hellcat and Hellcat Redeye can also come with the Widebody package mentioned above, complete with 20-inch "Devil's Rim" aluminum wheels wrapped in (optional) Pirelli P Zero summer tires for extra grip, extended fender flares to the body, a blacked-out rear lip spoiler, and a scalloped hood for added style, a six-piston Brembo brakes system installed up front, and a more aggressive suspension system for better performance control.
Ready to find your 2019 Dodge Challenger SRT Hellcat Redeye? Give us a call at Cape Coral Chrysler Dodge Jeep Ram to find out soon we can get yours.
Photo Source/Copyright: FCA Media