2021 Chrysler Pacifica and 2021 Jeep Grand Cherokee L Make It On Wards 10 Best User Experience List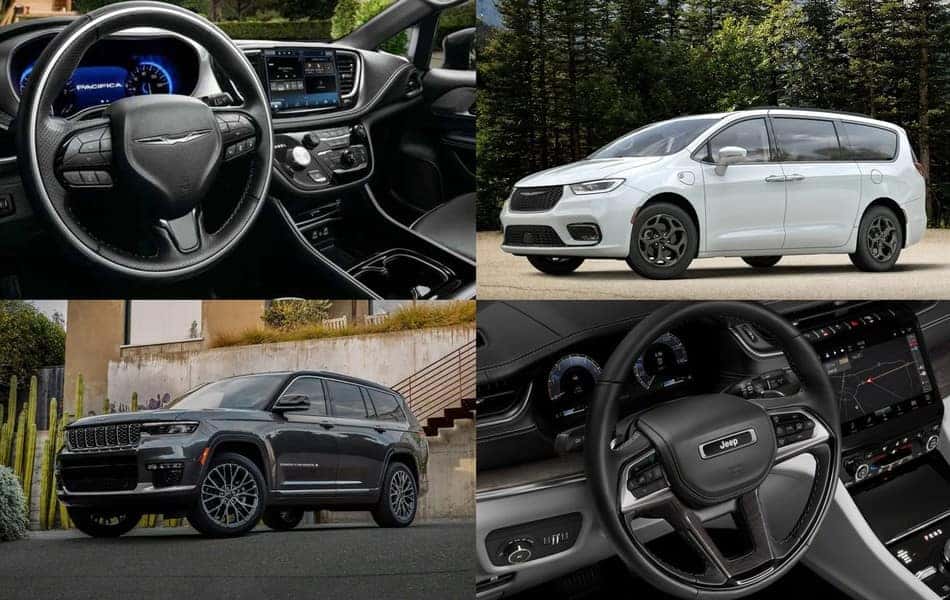 The editorial team at WardsAuto.com officially included the 2021 Chrysler Pacifica and the 2021 Jeep Grand Cherokee L on their "10 Best User Experience List." The main reason for these nominations is because of the latest Uconnect 5 system that is standard on both vehicles. This system offers greater connectivity, rich content, and greater personalization options, making it the most advanced Uconnect system to date. Stellantis is showing its commitment to consumers by providing them with the latest technology, all while making infotainment features easier to use and more intuitive– all in the Uconnect 5 System.   
Evaluating the User Experience
During the selection process, editors at WardsAuto.com evaluated the user experience of 25 vehicles based on 10 pieces of criteria that included user-friendliness, infotainment features, sound systems, vehicle connectivity, driver-assist technology, displays, system compatibility, voice controls, material quality, and overall consumer value. With a selection of only 10 vehicles to make the list, it's a prestigious honor for these two Stellantis vehicles to make the list.      
The 2021 Chrysler Pacifica
For the 2021 model year, the Chrysler Pacific delivers a spacious and comfortable ride quality and the infotainment system is one of the top-selling points for this vehicle. Especially for the top-tier Pinnacle trim, it has every available feature for the active family that is always on the road. Convenience functions such as voice commands, fast smartphone pairing, and adaptive cruise control are some of the hallmark functions of the 2021 Chrysler Pacifica. There is also a FamCam that is mounted on the ceiling in the second row that gives parents a good view of their kids in the back seats from the 10-inch central touchscreen. The Pacifica is also equipped with USB Type-C ports to charge devices fast in addition to having an exclusive theater system that features built-in games and other apps. For a starting base price of $35,820 (plus destination fee), it is a great value for family-oriented buyers.   
The 2021 Jeep Grand Cherokee L
The Jeep Grand Cherokee moves into full-size SUV territory with the L-Series, a lineup of Grand Cherokees that comes equipped with standard third-row seats. Having the latest Uconnect 5 System enables the infotainment unit to operate at faster speeds, including the addition of new content and increased customization options. For buyers who can spend a little more, a premium McIntosh Sound System is available for those who want to hear their favorite music in crystal clear high-definition. Other features include a rear-seat monitoring camera system that is similar to the one on the Chrysler Pacifica. Other technologies include a night vision camera, drowsy driver detection, head-up display, an advanced L2 automated driving system, and a standard 10.25-inch digital gauge cluster. After a long day of work, Grand Cherokee L owners can activate the massage-enabled front seats for a soothing back massage. Driving at night can also be fun and exciting with a five-color ambient lighting feature to set the mood. For just $3,400 more above a base model 2021 Chrysler Pacific, the new Grand Cherokee L is attainable for a starting price tag of $39,220 (plus destination fee).   
Contact Us Today for the Best Deals
Drive home a 2021 Chrysler Pacifica or a 2021 Jeep Grand Cherokee L by contacting us at Cape Coral Chrysler Dodge Jeep Ram and experience all the latest features that come with the new Uconnect 5 System. If you are looking for a specific exterior color or trim level, you can submit an inquiry online via our contact form and we'll provide you with more information on availability and custom ordering options. You can also check out our inventory of Jeep Grand Cherokees, Chrysler Pacifica minivans, and Dodge sedans. We offer flexible leasing and financing options for those that qualify. Be sure to also take a look at our used and certified pre-owned vehicles for amazingly low prices!
Image Source(s): Chrysler, Pacifica