Art By Pasta Comes to Cape Coral Chrysler Dodge Jeep Ram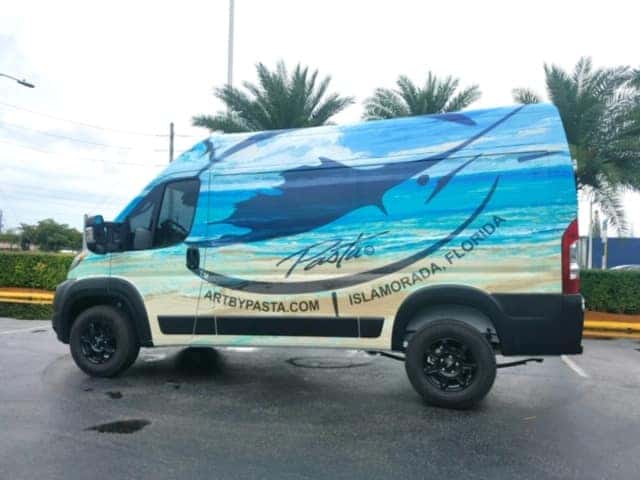 Every once in awhile every dealership gets a very special client looking for something very specific. In the case of Cape Coral Chrysler Dodge Jeep Ram, we were visited by a very well known artist – Robert "Pasta" Pantaleo – from the Florida Keys. He was in search of a Ram Promaster for his business and Cape Coral Chrysler Dodge Jeep Ram delivered. Mr. Pantaleo was kind enough to gift us a framed and signed print that now hangs in the dealership, as a token of his gratitude for the exceptional service he received. 
Mr. Pantaleo was born in Italy but he spent much of his childhood in Brooklyn, NY. His nickname – "Pasta" – was passed down by his brother Nick, who was often referred to as "Pasta Fazul." Neighborhood friends had difficulty in pronouncing the name Pantaleo and often struggled to get the pronunciation correctly because of the brothers' heavy Italian accents. By the mid-1970s, Pasta dreamt of the ocean as he felt it was the sea that represented an escape from dull, urban life. In his teens, Pasta managed to convince his family to migrate to South Florida, thus launching him into an atmosphere that would shape his future.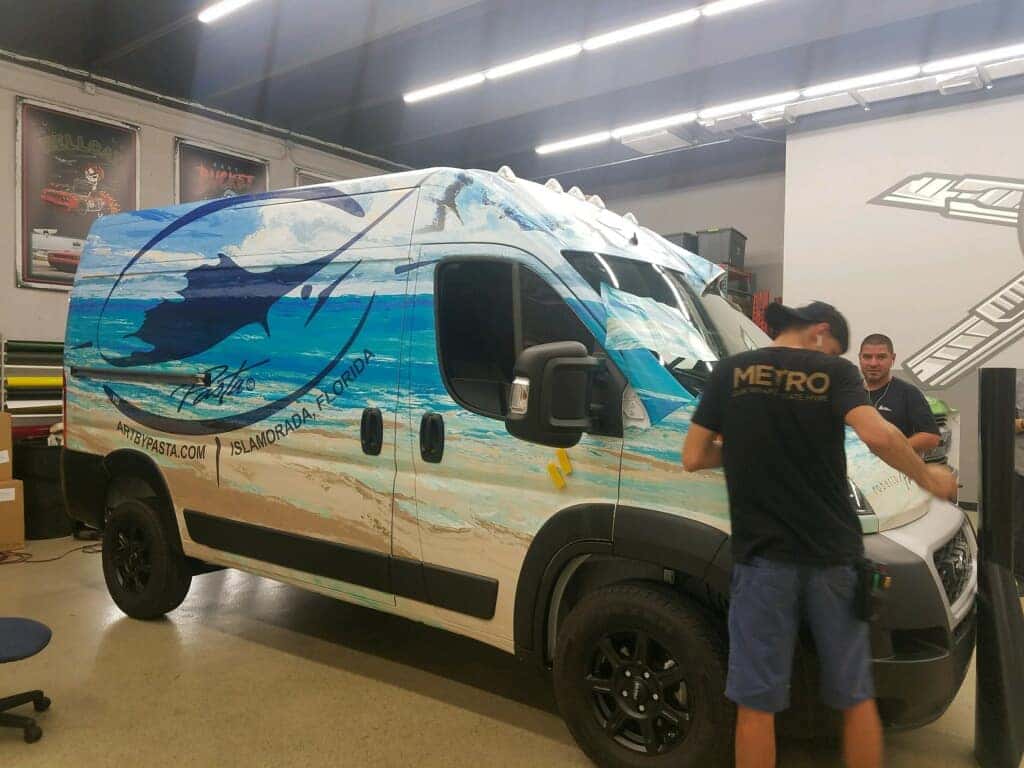 Common interests during his teenage years included motorcycles, hot rods, and the undying passion of customization. Pasta's friend, Victor, was the first to encourage him to pinstripe his newly-customized van. Pasta's trepidation about customizing vehicles was short-lived as he realized there was a massive demand for custom-painted vehicles and he embarked on what would become his career. By the late 70s Pasta was considered a world-class airbrush artist who was in demand to custom paint all types of vehicles as the lavish Miami Vice era was on the rise. 
By 2001, the demand for vehicle customization had tampered down, but there was a new art method on the horizon for Pasta. Just like back in the 70s a friend had pushed Pasta in a new direction, this time around it was Jamie Bunn of Bluewater Movements who asked Pasta to create a painting on canvas for his professional fishing tournament series. Pasta's work, titled "Everybody is Gonna Be There," marked a life-changing career move and appeared as the poster art for the Pompano Beach Mercury/Sea Vee Saltwater Slam. The fishing public took a liking to Pasta's work and the rest, as they say, is history.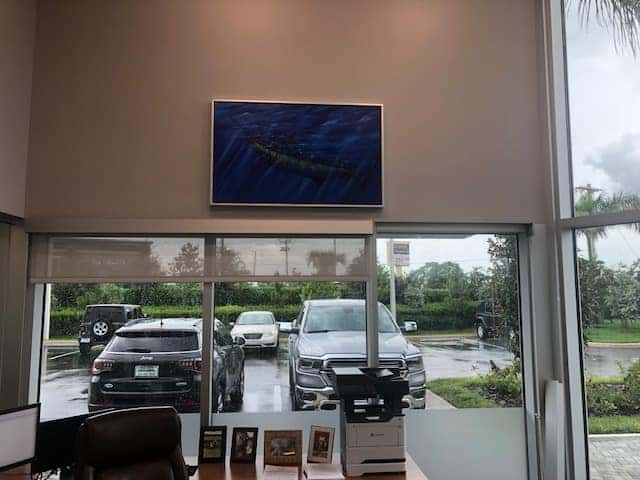 Nowadays, there's a new method of customizing vehicles, in the form of adhesive vinyl graphics. Pasta not only purchased his new work van from us, a Ram Promaster, but he also trusted our shop to customize his new van with a wrap. The application of the wrap quickly changed the vehicle's appearance in a very short period of time, but can be removed at a moment's notice to return the vehicle to its original condition. The large wrap installed at Cape Coral Chrysler Dodge Jeep Ram will help Pasta advertise his business as he's on the go. 
Pasta's generous gift now hangs in the Cape Coral Chrysler Dodge Jeep Ram dealership so everyone who visits can enjoy his work as well.
Visit Cape Coral Chrysler Dodge Jeep Ram for all your customization needs. Besides applying wraps as seen above, we also offer other customization services that include van upfits, lift kits and other modifications – including performance packages, electronics, suspension upgrades and more. Call us at 239-288-2827 or visit us at 2200 NE Pine Island Rd, Cape Coral, FL 33909 for all your customization needs!
Photo Source/Copyright: Own