Why the Dodge Durango is the Best 3-Row SUV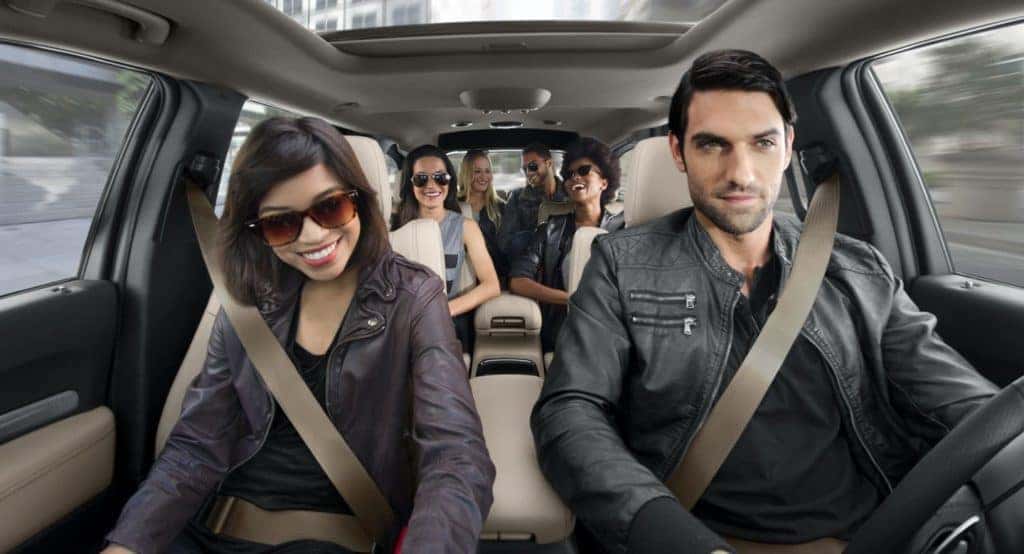 The 2018 Dodge Durango has exceptional features that would make the dreams come true for anyone looking for a powerful and convenient SUV. If you're searching for a spacious and comfortable SUV, that not only has the capability to tow thousands of pounds, but also is safe and has a great audio system and technology setup, then the search is over. The 2018 Dodge Durango has these awesome features and much more.
Three rows may seem like a lot for an SUV, but it can be assured that even with three rows of seats this car will allow for comfort and luxury. The overall vehicle can safely seat seven people with its two seats in the front, three seats in the middle and two seats in the back. For all those big families and groups of friends that love to carpool this is a very special and important part of the vehicle.
Not only do many trims offer leather seats for a comfortable journey to wherever the destination may be, but a third-row is an option for all trims past the base, SXT, if looking for a little extra space. In addition, the entire lineup comes with a 60/40 split-fold second row, able to offer additional cargo space when folded down.
If only folding down the third row, then the 2018 Dodge Durango will offer consumers a total of 47.7 cubic feet of room; when both rear bench seats are folded down, the space opens up to an immense 84.5 cubic feet of cargo area. If you or someone you know is moving, this will surely help with fitting different pieces of furniture or luggage into the SUV. Worst case, with all seats up, the cargo volume is still great, able to offer 17.2 cubic feet of cargo room in the trunk.
The entertainment system on the 2018 Dodge Durango is nothing to pass by. High-end trims come with a BeatsAudio speaker system making each and every song that plays that much better. Plus, the 2018 Dodge Durango comes standard with the Uconnect 4 infotainment system with Apple Carplay and Android Auto capability. It's easier than ever to choose music to play on the 8.4-inch touchscreen. With the integrated voice command, the Apple Carplay system also allows consumers to speak to Siri to merely call or text anyone in their contacts by just speaking and calling on Siri to do so, i.e. "Siri, call Mom."
Safety is extremely important at any age and for any car a consumer may drive. The 2018 Dodge Durango does not disappoint with safety features and safety reviews. It is standard for every one of these hefty SUVs to have a rearview camera. If looking for the most safety possible, select trims can opt-in for advanced safety features, such as forward collision warning and automatic braking where the car will physically break the car when approaching another stationary car in front of the driver. Other safety feature options include lane departure warning plus, where the car will emit a beep or chime if the car is drifting outside of its respective lane and a turn signal isn't on. If the driver doesn't respond, the car will forcibly merge back into its proper lane.
With a maximum 360 horsepower (if driving on rear-wheel drive), which indeed has the capacity to tow a very heavy trailer, and paired to an 8-speed automatic transmission, the 2018 Dodge Durango is not only convenient, able to seat 7 passengers, but also powerful, able to tow a maximum of 6200 pounds. If looking for more, get the all-wheel drive and feast your eyes on the Dodge Durango SRT, able to generate up to 475 horsepower and 470 lb-ft of torque. Riding on 20-inch wheels and powered by a 6.4-liter V8 SRT HEMI engine, the Durango SRT really captures the whole SRT experience for "Street and Racing Technology". That's the Dodge Durango SRT for you though – a high performance muscle car feeling, but in an SUV.
What do you think of the Dodge Durango? Let us know on Cape Coral CJDR social media.
Photo Source/Copyright: Dodge.com