The Dodge Grand Caravan – The Must Have Tailgating Accessory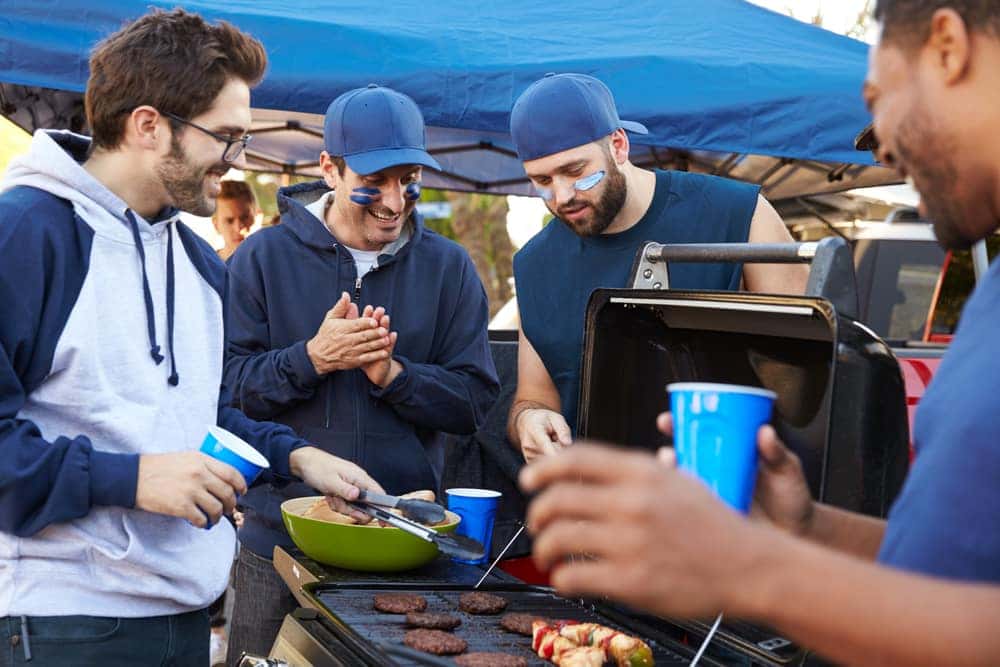 It's that time again, and everyone is getting into the spirit of the season. That's right, it's tailgating season! Get ready for a party you won't forget, where strangers come together to mingle, drink, and be merry – just like any other holiday. Some people will pop up in their Ram 1500, packed with beers in the RamBox Cargo Management System. Others will drive SUVs and crossovers to provide music, BBQ equipment, and to transport their party guests. The one vehicle no one will expect is the Dodge Grand Caravan, a tailgate party vehicle in disguise.
Food and Beer Storage
Where there's a party, there's food and beer (or soda and water for the youngsters). If bringing your own dish, six-pack (or 12-pack), and some nachos to share, then we need to find room for everything. Nice to know that the 2018 Dodge Grand Caravan comes with second row and third row Stow 'n Go seats, a standard feature on all every trim of the minivan. When not in-use, consumers can stow the Stow 'n Go seats into in-floor compartment bins that they easily fit in. Stow away both rows and open up a total of 140 cubic-feet of free space for a cooler, party favors, maybe even a BBQ to cook up some burgers!
Oh, and that's the best part. Probably wondering where we're gonna keep the burger meat so it's nice and fresh, right? If making use of the second or third-row seating, the class-exclusive in-floor storage bins are still available for use, offering 12 cubic-feet of hidden storage space. Just line them up with ice bags and keep raw meat, beer, water, and other temperature sensitive items cool. These compartments can also be used as secure storage bins for keeping items away from prying eyes.
It's Party Time!
Looking to really get into the party spirit? With the Grand Caravan SXT trim, with a starting MSRP of $31,750*, the third row Stow 'n Go seats also feature the ability to flip backwards and provide two front-row seats to the party from the comfort of the minivan. What an easy way to sit back, crack open a cold one, and listen to the game on the nearest radio, even your own, with available SiriusXM Satellite Radio.
Brought the kids along to experience tradition? Kids these days are always looking for a distraction, and if the tailgating is getting a little PG13, the 2018 Dodge Grand Caravan makes it easy to keep them distracted. Available on various trims are Bluetooth streaming audio, internet access with Web by Mopar, USB ports and electric outlets for charging portable devices, a high definition multimedia interface that allows for the connection of gaming devices, a second-row overhead 9-inch VGA video screen, a second-row overhead DVD console, a single DVD entertainment system, and wireless headphones.
Surprised? The Dodge Grand Caravan hasn't lasted this long for nothing. Some of us probably have fond memories of going to school riding in a minivan with a Super Mom or Dad behind the wheel. Looking for a winning minivan for your family? The 2018 Dodge Grand Caravan is one of the best choices out there.
*Plus destination fee
Photo Source/Copyright: Shutterstock.com; Monkey Business Images