Five Important Features in Jeep 4×4 Systems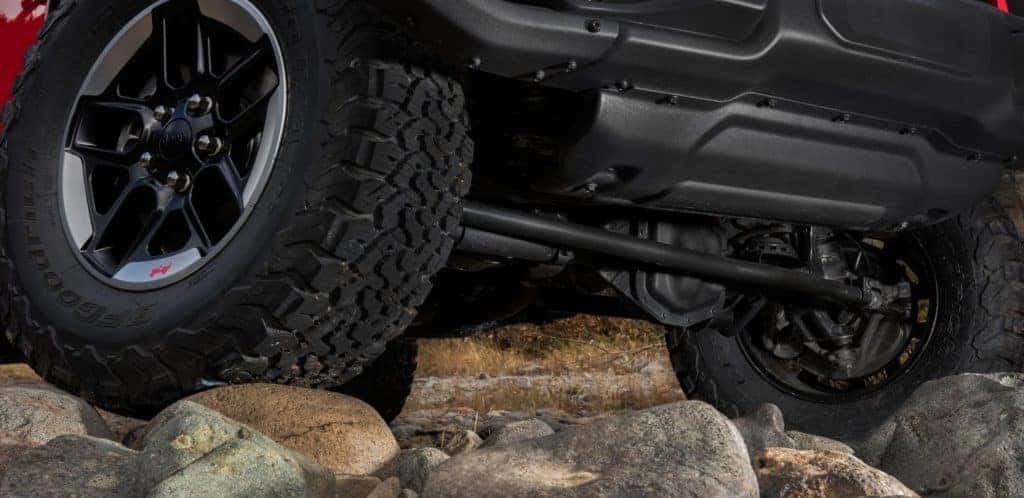 For all those Jeep® driving adventurers, although it is great to go out there and get dirty in the mud, there are a few parts of the Jeep that you should get to know further. For 4×4 systems, it may seem straightforward about what the Jeep definitely needs in order to survive the harsh terrains of off-roading, but there are some subsystems that any off-roader should be sure to take interest in before setting out on their next adventure.  
Off-Road Differentials
Off-Road Differentials – always remember this subsystem the next time you head out to the great outdoors and its rough terrain. This subsystem is one of the most important aspects of 4×4 driving. Luckily, Jeep vehicles have either mechanical, electronic, or bake-assisted differentials that help maximize the power delivered to the wheels for increased traction. If a vehicle lacks this subsystem, it could be susceptible to a loss of control of the vehicle at any point when off-roading. No one wants to worry about that while having a blast with their Jeep. Off-Road Differentials not only increase the overall traction of the tires, but the main action of this system to remember is that it sends the most amount of power it possibly can to the wheels of the Jeep that have the most traction.
Skid Plates
Now, these subsystems are standard on many Jeep vehicles and certainly on all Trail Rated Jeep vehicles. Skid Plates are extremely essential for making sure that the core mechanical components of a Jeep are kept safe and untouched by outside off-roading forces. Skid Plates are made to be super durable, they're made of very strong steel, so it would take a lot to get through this subsystem. If you're an avid off-road enthusiast and love to drive across very rugged terrain, for example, sharp and pointed rocks, you should be very appreciative of how much this subsystem saves your beloved Jeep.
Front Sway Bar Disconnect System
This particular subsystem, which is standard on the Jeep Rubicon and optional on others, allows the driver to automatically disengage the front sway bar while driving under 18 mph and while in 4 Low mode. The purpose of this is to allow the front wheels to drop, or compress for improved articulation for better movement over off-road terrain.
Rock Rails
For that bit of extra protection, be sure to have Rock Rails, also called sill guards, mounted onto the body of the car. These rails are sturdy and tough enough to protect the vehicle from intense and aggressive terrain while taking the vehicle out for an off-roading adventure. These Rock Rails are specifically designed to provide even more protection to the bottoms of the doors and also the door sills.
Body-On-Frame Design
Owning a Jeep Wrangler or a Jeep Wrangler Unlimited can result in the urge to go ahead and take those vehicles out for what they're made for – going off road. What's great about these specific two vehicles is that they have something called a Body-On-Frame Design that is actually built within the frame of the SUV. This design makes the vehicles capable of withstanding harsh terrain conditions much higher. What this system actually does is it separates the body of the vehicle from the frame of the car – thus making the SUV, again, capable of being able to go through intense terrain like mud and sharp jagged rocks. The Body-On-Frame Design does so by making the vehicle very resistant to any forces that'll make the car twist.
Any other 4×4 features you love about your Jeep? Let us know on Cape Coral CJDR social media.
Photo Source/Copyright: Jeep