Gear Up For Easter Weekend With Jeep!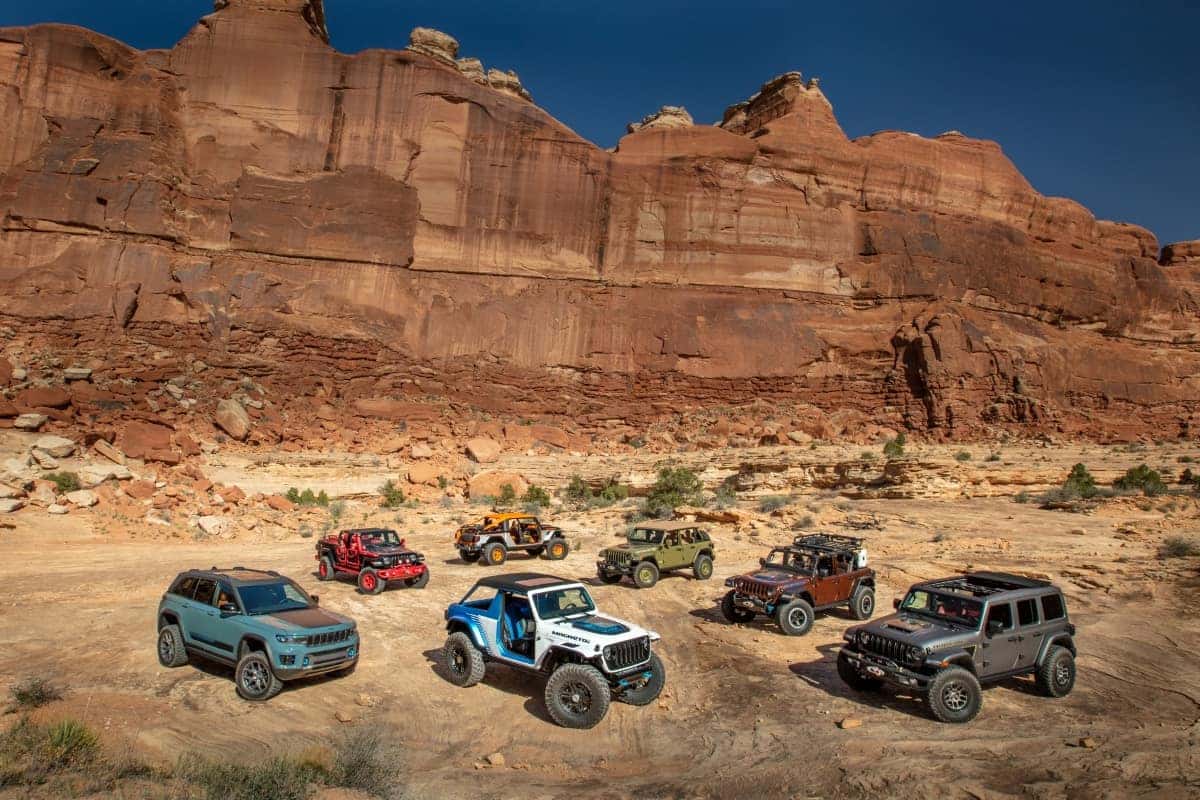 Photo Source: Stellantis 
Gear up for Easter weekend with Jeep's 56th Annual Moab Jeep Safari event! There will be five new and unique concepts heading to Moab Utah between April 9th and April 17th (2022) for this event on the four-wheeling range, plus an additional two new Jeep concepts from Jeep Performance Parts (JPP) and the three that debuted in 2021 at the SEMA show! 
"Easter Jeep Safari is the perfect opportunity for the Jeep brand to push the limits of four-wheel-drive development and, most importantly, to stay connected with our customers. "Moab is a rite of passage for many Jeep owners, and to own a Jeep is to truly understand the lifestyle – it's what the Jeep brand is all about. Whether it's a Jeep concept or the latest Jeep production vehicle, our customers have the chance to get up close and personal with our passion projects during this event. From a fully capable BEV off-roader to rugged and powerful terrain tacklers, every concept is a true reflection of what our customers tell us they want and give a taste of where the future of the Jeep brand and off-roading can go." said Jim Morrison, senior vice president and head of Jeep Brand North America.  There are a total of 10 concepts for Jeep's event that enthusiasts can delve into and explore, so let's take a look!
Jeep Wrangler Magneto 2.0
One of the vehicles that demonstrates the Jeep brand's dedication to Zero Emissions Freedom through its battery-electric propulsion system. It creates a terrain-dominating off-roader that takes the driver far past any expectation! It's got some incredible specs, especially with the new electric powertrain, all of which will be unveiled at the Jeep event!
Jeep Grand Cherokee Trailhawk 4xe
This electrified Cherokee 4xe will pair the legendary Jeep 4×4 capability with electrified freedom to deliver ultimate fuel efficiency and driving range while packing a punch! It's meant to have 2 electric motors and the class-exclusive Jeep Quadra-Lift air suspension to optimize the ride performance and help it manage well through rocks and rough terrain.
Jeep '41 
This is Jeep's homage to the original Willys MB, a retro-styled concept of it with all the modernized features of electric vehicles. It will have a unique and advanced powertrain among many other developments!
Jeep Rubicon 20th Anniversary
This 20th-anniversary concept continues the legacy that the Rubicon trim established just two decades ago, maintaining itself as the quickest and most powerful Wrangler yet. It will be a modified four-door that sets the benchmark for performance and capability with its 6.4-liter and V-8 engine, among many other customizations! 
Jeep Bob
This concept is a playful spin on the popular "bobbing" trend, which makes the vehicle the ultimate terrain tackler. Though it's based on the Gladiator Rubicon, all four doors and B-pillars have been removed for maximum open-air freedom. The bed has been bobbed" a full foot in length. It's powered by the award-winning turbocharged 3.0-liter EcoDiesel V6 engine!
Jeeps Remaining Concepts
The JPP Concepts and the SEMA concepts will be equally as impressive. JPP is bringing out the Jeep D-Coder and the Birdcage concepts that will include Mopar accessories among many other modifications that are sure to wow Jeep enthusiasts! The Sema concepts will show passionate off-roaders the 4xe packages they can build upon, even further with the JPP factory-backed items they will come with! There is much to look forward to with this Easter event so please don't miss it! 
Shop With Ease! 
Are you excited about the future of new cars and even more about the future of EVs? We are too, here at Cape Coral Chrysler, Dodge, Jeep, Ram; where the selection is always wide and the excitement to help our customers is never-ending! Whether you're looking to take a peek at our new vehicle inventory, or our quality used vehicles are more your speed; we've got you covered! In need of a refresh on your vehicle to bring it back to life? Our amazing service team can handle that with ease, by scheduling an online service appointment with our service center! Sit back and relax as our team of professional techs take care of your vehicle.
Whether it's financial help, general questions, any vehicle needs, or suggestions on easier payments for your vehicle; we're always here to help at any moment! Stop by today and see what we can do for you right now!