Habitat for Humanity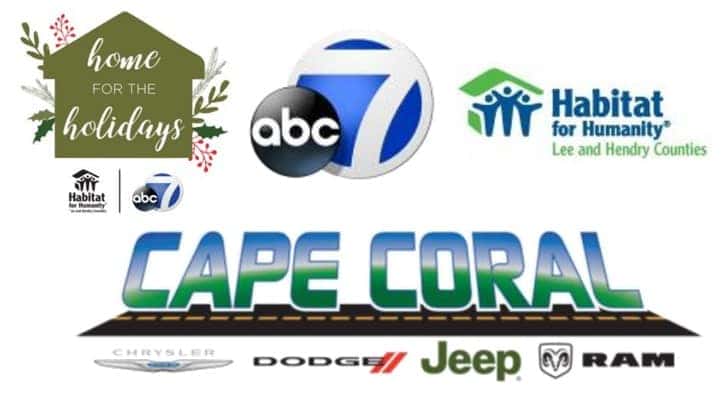 At Cape Coral Chrysler Dodge Jeep Ram, our philosophy is to not just be in the community but to participate and give back to the community. It's where we belong, it's our home, and there really is no place like home. That's why, for this year's holidays, we're participating in something special in the Cape Coral Community. By participating with Habitat for Humanity we will be helping build a home for a family in need.
Habitat for Humanity
Habitat for Humanity is an international, non-governmental, and nonprofit organization that has been devoted to building "simple, decent, and affordable" housing for families. Seeking to bring communities together, Habitat for Humanity brings people together to build homes using volunteer labor. Since it was founded in 1976, Habitat for Humanity has helped more than four million people construct, rehabilitate or preserve more than 800,000 homes.
With five area offices located around the world – United States and Canada, Africa and the Middle East, Asia-Pacific, Europe and Central Asia, and Latin America and the Caribbean; Habitat for Humanity has been able to found localized offices in these sectors. In 1982, a charter was granted for the Habitat for Humanity of Lee and Hendry Counties. To help build a home of a deserving family just in time for Christmas, employees from Cape Coral Chrysler Dodge Jeep Ram will be lending a hand.
Meet Yolanda and Her Boys
Yolanda is a 34-year-old native of Southwest Florida and a single mother raising two young boys, Nicholas, age 10, and Aaron, only two. Yolanda has been working full-time as a receptionist and medical biller at a local dermatology office for over ten years. Things were working out.
Yolanda spent time raising her family in a house she had been renting for seven years. Recently, her landlord sold the property and only gave Yolanda thirty days notice to move her family out. Without enough time and proper funds, Yolanda wasn't able to find another affordable option, and elected to move herself and her sons into a shed in a friend's backyard.
The Habitat for Humanity has accepted Yolanda into the program to build a home for her and her family. Having already raised the necessary closing costs, a total of $1700, Yolanda is also joining the team to build her home. Yolanda will be putting in a total of 300 hours to help complete her home, in addition to attending and completing home ownership classes before purchasing an affordable mortgage.
Cape Coral Chrysler Dodge Jeep Ram is already set up to help. We are going to be working to help build the house on Wednesday, December 5th. We'll then be featured in an update special the following Thursday morning on ABC. Tune in to find out how far we get on this special project.
Doesn't it feel great to give someone something special on the holidays? And what could be more special than giving a family a lovely home to live in? Join Cape Coral Chrysler Dodge Jeep Ram in building a home for Yolanda and her boys this holiday season.