Head of Design at Dodge Wants Splitter Guards Removed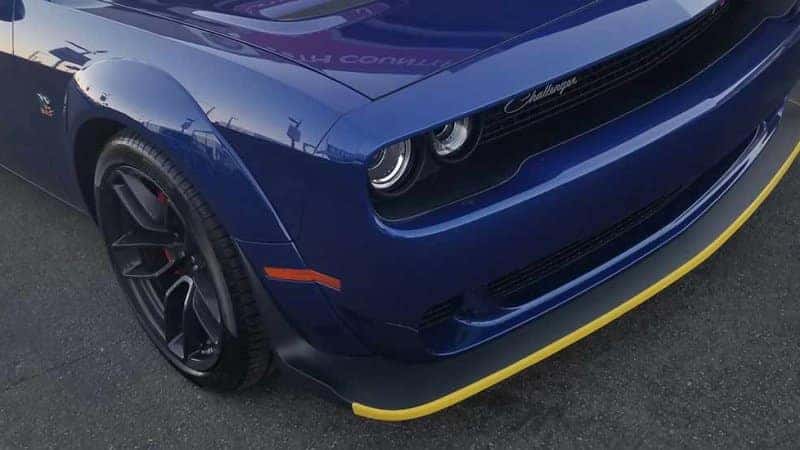 In 2018 Dodge started placing yellow strips of plastic on the leading edge of Challengers and Chargers front splitters. Those yellow strips are to prevent damage during the vehicle transport from plant to dealer. It's protection, not decor and Dodge's head of design, Mark Trostle, has requested from owners a simple plea "please remove your car's splitter guards. They aren't part of the design."
Dodge embossed "To Be Removed By Dealer" into the plastic, so instructions weren't hard to follow, and yet those same instructions weren't always followed. Trostle, along with others, think the yellow strips ruin the muscle machines' lines. Trostle hopes the end of that conversation is near; that once and for all everyone sides with removing the splitter guards. 
If you are unfamiliar with the debacle, here's the backstory. Dodge put the yellow plastic protectors on the underside of some Challengers and Chargers' front splitters to protect (again, not as a decor piece) the vehicle during transport to dealers. There were a few dealers who delivered the vehicles to its customers with the guards in place, and some buyers liked the look of them.  
In the summer of 2018, it became rather popular, yet controversial within the Mopar community, to reinstall the discarded guards on vehicles. The debate (albeit silly) over what people do with their Dodges leaked onto the online car discourse. To keep the yellow strips or not. 
Many owners even bought a set on eBay for $100 or more. The decision over the protector was 20/50/20. Some thought they looked cool, others foolish, and others didn't care. 
Now others are stepping forward on whether they think the strips should stay put. Dodge and SRT lead designer Mark Trostle has made his feelings known. "I wish they would take them off."
The owners who keep them on believe that leaving them on give their cars a colorful accent. "This is the final word: When we sketched the Charger and Challenger, it never had yellow stripes on it," Trostle declared in the final minute of a video uploaded to YouTube by Canadian automotive journalist, Brian Makse. "To me, as a designer, it ruins the lines of the car."
Trostle has gained Dodge's side, and they are hoping to change the color of the splitter guards to a shade of violet. Trostle is hoping that the trend will end. "For the new splitter guards, we've introduced a new, fashionable purple color that… we'll see if that one takes off. I hope it doesn't. It's purple."
Let's take into consideration that the whole point of owning a car, especially something as decidedly non-beige as a Charger or Challenger, is the choice of making a color statement that not everyone is going to agree with. It's freedom of speech. For the owners of the vehicle anyway. 
If you're interested in test-driving a Dodge model near Fort Myers, make sure to check them out at Cape Coral Chrysler Dodge Jeep RAM. 
Photo Credit: autoblog.com