J.D. Power APEAL Study Names Two Brands Found at Cape Coral CDJR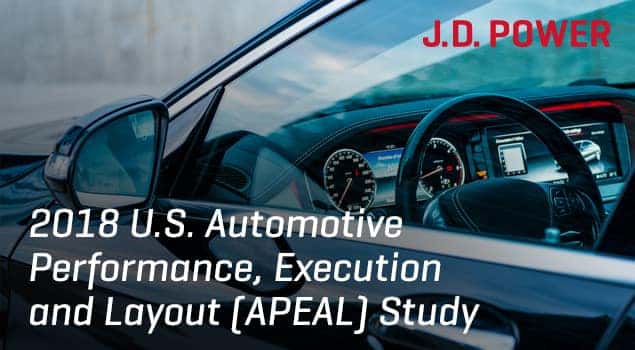 Every year, J.D. Power conducts several surveys and studies to find some of the most prominent vehicles on the market. Most recently, their Initial Quality Study had completed, a study that surveys the amount of problems a car brand has per every 100 vehicles it produces after 90 days of ownership or lease. Recently, the J.D. Power U.S. Automotive Performance, Execution and Layout (APEAL) Study had completed analysis of its findings. Among them, two vehicles have popped up, and they can be found at Cape Coral Chrysler Dodge Jeep Ram.
J.D. Power APEAL Study
Now in its 23rd year, the J.D. Power APEAL Study is conducted every year between the November of the previous year through the February of the following year. Designed to measure a car owners' satisfaction with the performance and design of their new vehicles, nearly 68,000 purchasers and lessees of new 2018 model-year vehicles were surveyed after 90 days of ownership for the 2018 study. The APEAL Study measures an owner or lessees' emotional attachment and level of excitement in relation to their vehicle across 77 attributes that range from the power a consumer feels when they step on the gas and apply pressure to the throttle to the sense of comfort and luxury they feel when climbing behind the steering wheel.
For 2018, the industry average APEAL score increases to 820 points (on a 1,000-point scale) from 810 in 2017, with significantly higher scores in all 10 of the study's evaluation categories. These categories include: driving dynamics, visibility and safety, engine/transmission, audio/communication/entertainment/navigation, seats, HVAC, exterior, interior, storage and space, and fuel economy. It's a pretty extensive survey, and with the new score, 2018 marks the highest new car appeal year-over-year increase experience in the history of the APEAL Study.
"The automotive industry is performing exceptionally well, with manufacturers making record-breaking improvements year over year…It's a great time to buy a new car or truck. There are a lot of high-quality, appealing vehicles in every segment of the market and shoppers don't have to spend a fortune to get one." – Dave Sargent, Vice President, Global Automotive at J.D. Power.
Two Brands Found at Cape Coral Chrysler Dodge Jeep Ram
One vehicle that made the list for the top-rated 2018 Family Cars from the J.D. Power 2018 APEAL Study is none other than the 2018 Chrysler Pacifica. Having recently been named by Digital Trends as one of the Best Family Cars, it doesn't take much of a guess as to why the Chrysler Pacifica scored well during the J.D. Power APEAL Study. Receiving an APEAL Power Circle Rating of 5 out of 5, the Chrysler Pacifica received the award for the Minivan segment. A Power Circle Rating is generated from consumer ratings, with a 5 being "Among the Best" in the industry.
Another vehicle that popped up was the 2018 Dodge Charger. Having been awarded the Residual Value Award by ALG, a trusted name that follows automotive trends, we know the Dodge Charger lasts well for years to come, and much longer than 90 days. For the 2018 APEAL Study, the 2018 Dodge Charger received an APEAL Power Circle Rating of 4 out of 5.
Join the discussion on Cape Coral CDJR social media.
Photo Source/Copyright: JDPower.com