Jeep Customs Web Show Debuts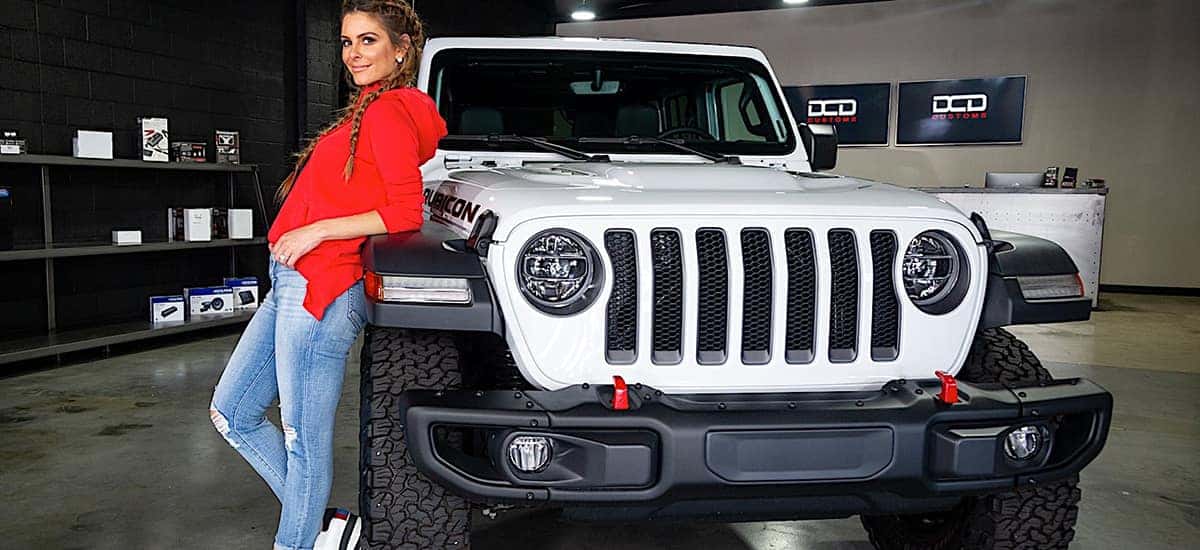 Photo credit: Jeep
The Jeep® brand has created their first-ever Web Series Competition known as "The Jeep Wrangler Celebrity Customs", all hosted by 13-year NBA star, former basketball player Jalen Rose. Competitors include World Series winner and 14-time All-Star Alex Rodriguez, popular media personality Maria Menounos, Andrew Steinthal and Chris Stang. The celebrity custom web show runs three to five minutes an episode. The first three episodes have debuted and are available to watch right now with the final episodes to be released on September 18th, 20th and on the 27th, 2018. On the final show, Jalen Rose will announce a Wrangler Golden Grille Award winner on Thursday, September 27th, 2018.
What Does the Competition Entail?
Each team will partner a celebrity with a team of professional customizers using genuine Jeep Performance Parts to craft an all-new 2018 Jeep Wrangler. Each celebrity will use their individual vision and own passions and tastes to create their special Wrangler. The final installment will take place at a special reveal event in Los Angeles where every celebrity contestant is expected to be in attendance.
The winner shall receive the Wrangler Golden Grille Award, but fans will still be able to vote online at Jeep.com for the Fan Favorite Award, following the sixth and final episode on September 27. The voting will take place on Jeep.com from September 27 through October 5.
Fans of Jeep and the Jeep Wrangler know the fun that comes with being able to create their own version of the Jeep vehicle. This web series showcases what can be done with the professional team of experts helping the special celebrity guests. The celebrities work with the customizers and Jeep Performance Parts to outfit their Jeep Wrangler with unique spins for a one-of-a-kind vehicle. The winner not only get bragging rights, but will keep the Jeep Wrangler they've customized.
So What Custom Teams Are Helping Each Celebrity?
Alex Rodriguez will be working with Ryan Friedlinghaus of West Coast Customs to make the "ultimate" Jeep Wrangler, one that fits his business and out of office needs. He's looking forward towards competing again, this time in a friendly web series.
"It's been thrilling to compete in the first ever Jeep Wrangler Celebrity Customs. Ryan and his team at West Coast Customs are building me the perfect ride – a Wrangler that keeps up with both my business and my lifestyle. I'm certain those guys are going to help me knock it out of the park!" said Rodriguez.
Famed TV personality and SiriusXM host Maria Menounos never owned a Jeep Wrangler, but she hopes to win hers after getting help from David Tonapetyan of DCD Customs. DCD Customs specializes in unique Jeep Wrangler customizations. Both are set to make her dream Jeep Wrangler that is not only attractive inside and out, but safe for her pets.
"I'm so excited to participate in this program with the Jeep brand and I look forward to presenting creative space and organizational solutions from my own personal point of view, while also catering to dog lovers everywhere!" said Menounos.
Chris Stang and Andrew Steinthal are the founders of The Infatuation, a social and digital discovery platform that assist others locate a restaurant for any situation. Andrew and Chris have partnered up with Stefano Loria of AutoCraft NYC to make a Wrangler that stands out in a city as large as New York.
"We couldn't be more excited to partner with the Jeep brand on this program. We've always dreamed about having our own custom Infatuation ride, and we couldn't think of a better vehicle than the Jeep Wrangler to make our own," said Chris Stang, CEO & Co-Founder.
"We look forward to seeing how Alex Rodriguez and Maria Menounos customize their vehicles, and our goal is to see their designs in our rearview mirror when we win. May the best Jeep Wrangler win." added Andrew Steinthal, the second half of The Infatuation.
Like What You See? Find Out Why Jeep Is The Choice of So Many Celebs
The all-new 2018 Jeep Wrangler has a starting MSRP of just $27,495 (plus destination fee) and it's available with a 285-horsepower 3.6-liter Pentastar V6 engine. You'll have to see for yourself just how much you'll gain behind the wheel. Best of all, you can build your Wrangler how you want to like the celebrities do.
Craving some custom features? Let our trusted service team help shape your new 2018 Jeep vehicle. We can order parts and before you know it, you'll be driving your custom Jeep vehicle making memories that you will never forget with one of the powerful, durable Jeep vehicles available at Cape Coral Chrysler Dodge Jeep Ram. Stop by today!