Could It Be That Jeep Gladiator Is Getting A V-8 Engine?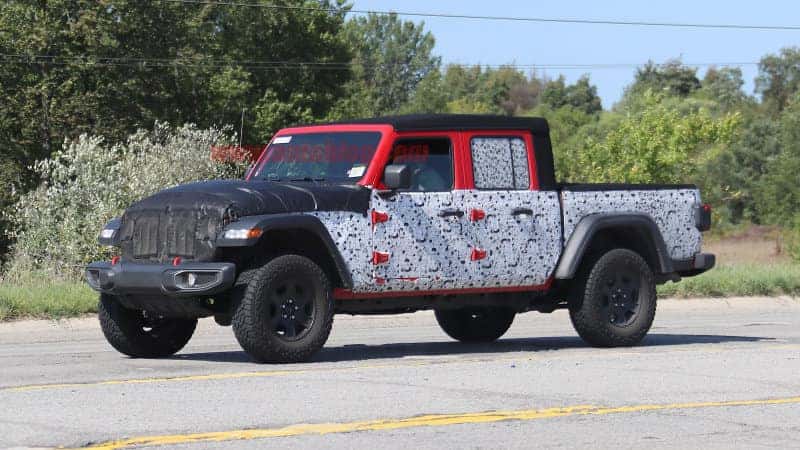 Rumor has it that Jeep Gladiator is getting a V8 engine. Is it true? The black cover seen on the spy images is trying to cover something around the engine compartment. It's also hiding what appears to be a bulge in the hood. 
The images indicate that the recent camouflaged Gladiator has been running on diesel. Still, in the images provided by Autoblog, you can see a sticker that suggests that unleaded fuel is required to keep the vehicle moving. That is something that hasn't been seen on previous Gladiators, but what can be seen on this one, is the unique wheel and tire package.
Some more adventurous Wrangler owners have placed a V8 engine in their Wranglers so we know they will fit. And, currently, there is no midsize truck that offers a V8 engine. So, if customers are looking for a Gladiator with even more power, they can look forward to the possibility of the Gladiator V8. 
If looking for more power than the Jeep Gladiator with the V8 engine is the answer. Jeep Gladiator offers a comfortable interior, off-road capabilities, and good towing abilities. One of the many things that buyers can look forward too. 
GLADIATOR:
Gladiator Performance
The Gladiator has a 285-horsepower V6, which is the same engine found in the Wrangler. It's sufficiently powerful for most driving situations, including towing and hauling. The V6 is the Gladiators only engine option, but Jeep plans to introduce a turbocharged V6 EcoDiesel powertrain later in the model year. 
On the highway, the Gladiator gets 22 mpg, and in the city, it gets 17 mpg. Other competitors such as the Chevrolet Colorado and Toyota Tacoma get about the same fuel economy ratings. Most rivals to the Gladiator have a four-cylinder base engine, and they come standard with a two-wheel drive. 
Gladiator breaks the typical truck mold in a lot of ways, but when it comes to its ride and handling, it still drives like most other pickups. When the vehicle turns, it turns reasonably well, and for the most part, it rides pretty smoothly. The ride quality feels sturdier according to autoblog.com even when there's some weight thrown on the bed.   
Standard on the vehicle is a rearview camera. Available safety features include rear parking sensors, blind-spot monitoring, and rear cross-traffic alert. Also available are automatic emergency braking, adaptive cruise control, and forward-collision warning.    
Powertrain Options:
These are the powertrain options on the Jeep Gladiator. The base engine has a 3.6-liter six-cylinder with 285 horsepower and 260 pound-feet of torque. The drivetrain is a standard part-time four-wheel-drive which is available in a heavy-duty part-time four-wheel-drive vehicle. The standard transmission is a six-speed manual, and there's an available eight-speed automatic. 
Drivers and passengers alike need to stay connected, and the Jeep Gladiator gets the job done with the features that it comes with. There's also a Uconnect infotainment system that comes with a 5-inch touch screen, and an eight-speaker audio system. There is Bluetooth included and two USB ports.
The vehicle offers a 7 or 8.4-inch touch screen as an option. Navigation is included in the 8.4-inch screen; there's also a nine-speaker Alpine audio system and satellite radio. The vehicles  When it comes to music, navigation, and phone connectivity (amongst other things), there's Apple CarPlay and Android Auto.  
The touch screen is easy to use, and the physical controls complement the vehicle nicely. The Gladiator offers an upgraded version of the Uconnect, which has larger screens, as an option. It also provides a smartphone connectivity tech, which means that any iPhone or Android device will connect to the vehicle. 
This Gladiator has some features that other trucks don't offer, such as a forward-facing camera to aid in off-road situations and a portable waterproof Bluetooth speaker. The removable top and the doors let the vehicle morph into a doorless convertible which is perfect for those summer months.   

If you're interested in test-driving a Jeep Gladiator near Fort Myers, make sure to check them out at Cape Coral Chrysler Dodge Jeep RAM. 
Photo Credit: autoblog.com