The Jeep Wave Explained: Both Honor and Program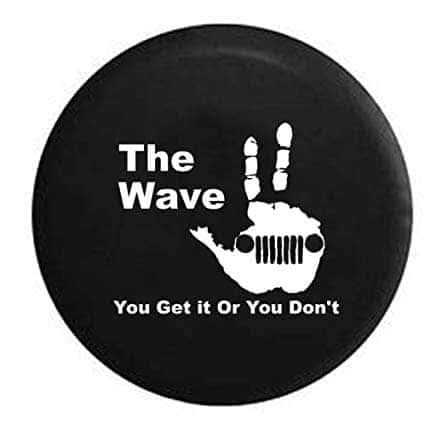 As a Jeep owner, there are two distinct "waves" that you can be a part of. The first camaraderie is on display every time you pass another person driving a Jeep in the form of a wave. The second is a VIP program offered by Jeep.
"THE JEEP WAVE IS AN HONOR"
"Warning: Owning, registering, insuring, or driving a Jeep implies knowledge of, and intent to abide by the following rules, regulations, and guidelines. Failure to obey the letter or spirit of the rules may result in your being ignored by other Jeep owners as you sit along the side of the road next to your stalled vehicle in a blizzard surrounded by Saturns, Yugos, and Hyundais. — Jeep Talk"
Initially practiced by Jeep owners driving the CJ, YJ, TJ, and JK, the Jeep Wave now extends to all members of the Jeep family. The Jeep Wave generally consists of a vigorous side-to-side motion of one or both hands, a raised hand waving, or two or four fingers extended upward from the steering wheel. While these are generally what describes the Jeep Wave, it may be modified to suit circumstances and locally accepted etiquette.
Some examples of commonly accepted modifications is having your Jeep top off. Also having a one-handed wave above the windshield or outside the body tub. Or, if you find yourself in a southern or more rural location, the wave is usually just a raise of fingers from the steering wheel and a nod.
The rules for the Jeep Wave is not complicated to understand. Every jeeper is responsible for upholding the tradition of the wave. If a fellow Jeeper wave, you are required to return the wave even if that Jeeper is driving a Grand Cherokee or Compass; it's as simple as that.
Jeeps aren't the only vehicles whose drivers wave to one another. There have been sightings of other cars doing "the wave." Such as Mini-Cooper drivers, Porsche drivers, classic car drivers, and Harley riders are sharing waves as well. But there can only be one Jeep Wave.
Jeep Wave is a complete membership program filled with exciting benefits and perks created to bring the owners the utmost in care and dedicated 24/7 support. When someone purchases or leases a qualified Jeep Brand vehicle, they will automatically be registered in a 24-month Jeep Wave membership. The Jeep Wave membership can be purchased on 2015 model year or newer vehicles, so almost every Jeep vehicle holder can take advantage of this offer.
JEEP VEHICLE OWNER SUPPORT:
There is an exclusive 24/7 Jeep Brand vehicle owner support that is a call away. If buyers have questions about their Jeep Brand vehicle, they can service scheduling services. They can call the dedicated Jeep Wave member support or get in touch through live chat.
MAINTENANCE:
Jeeps number one concern is that drivers take pride in driving the Jeep Brand vehicle. Jeep Wave members receive tire rotations and four oil changes for the length of the membership. Talk about a sweet deal.
GET THE VIP TREATMENT:
Jeep Wave members get the preferred treatment at any Jeep Brand events across the country. They also get access to exclusive contests. The VIP treatment is an extra perk to the Jeep Wave benefit.
PREMIUM DISCOUNTS THROUGH THEIR SAVINGS NETWORK:
Wavers will be able to enjoy exclusive discounts and curated offers on merchandise from 150 premium retailers through Jeeps savings network. Jeep Wave members can recover the $500 in savings added to their accounts from any vehicle purchase on the select products available for up to 40% off.
NO-CHARGE SAME-DAY RENTAL:
What is the worst part of any routine maintenance? Not being able to use your vehicle while in the shop. One of the perks of the Jeep Wave membership is that Jeep has you covered with a no-charge rental for the day, so you don't have to spend time waiting and have more of that time doing.
TRIP INTERRUPTION COVERAGE:
Drivers will be able to explore with a peace of mind and adventure freely, thanks to the Jeep Wave trip interruption coverage. Jeep Wave covers up to $1,000 per occurrence for a meal, lodging, and emergency transportation for you and your passengers should you ever hit a snag in your journey.
Are you interested in finding out where you stand in the Jeep Wave Hierarchy? Then check out our Jeep Wave Score Calculator! If you're interested in test-driving Jeep models, make sure to check them out at Cape Coral Chrysler Dodge Jeep RAM dealership.
Photo Credit: amazon.com