Need Ideas For Hosting a Tailgate Party?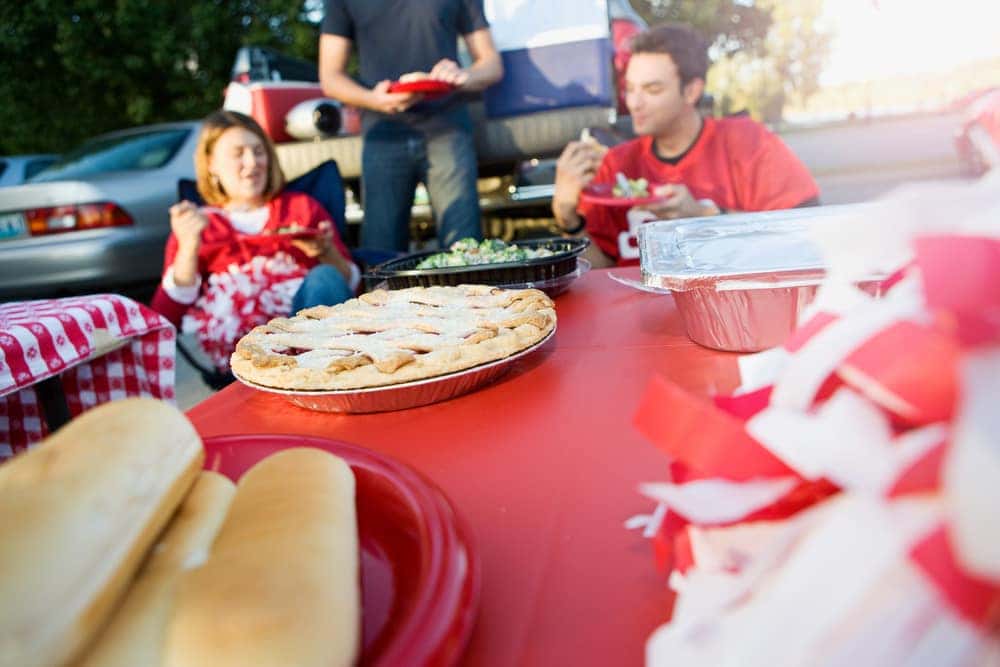 It's time for football! And that means it's also time to start getting friends together to go tailgating. And we're not talking about running people down on the highway, we're talking about the kind of tailgate parties that go on in stadium lots during the game. Before you get carried away or that one friend has too many drinks though, we have some advice on how to go about a tailgate party.
How to Get There
So, what kind of vehicle are we driving to the tailgate party? Most would say the choice is obvious – a pickup truck, like the new 2019 Ram 1500. Truck beds are made for tailgating, and with the larger RamBox Cargo Management System, you can store supplies or even some cool brewskis.
If carpooling with a lot of people, then an SUV or Minivan might be a better choice. Dodge is known for many SUVs and vans, but nothing beats their 2018 Dodge Grand Caravan. Made with built-in Stow 'n Go tailgate seats, the third row can be flipped over to act as seats facing the rear of the vehicle – now front row seats to the party. The Chrysler Pacifica is also a great minivan known for keeping little ones entertained with the available Uconnect Theatre package. Keep an eye, or should we say an ear, to the scoreboard by tuning into the game on a 20 Harman Kardon speaker system with surround sound with the Sound Group.
Be Courteous
Don't ruin tailgate parties for everyone, don't be that guy. Every venue will have rules in place for how to go about throwing a party in the lot. Find out when the parking lot is open, when it's time to end the party, regulations for tents and cooking grilles, proper disposal of trash and coal/propane/etc. Oh, and make sure the party isn't set up in a forbidden or hazardous zone.
While checking things off the list, check the weather. Will it be raining? Will people still show up? Those of us with hatchbacks or crossovers can open the trunks and create a little shelter, but it's not ideal. Maybe look into investing in a pop-up tent. If it's not raining, look into setting up some games, like the bean bag toss.
Keep It Simple
The most important part of a tailgate party is the food. There's always the classics – BBQ chicken wings, burgers, hot dogs. These finger foods are great with plenty of moist wipes and paper towels. To limit the mess though, look into also bringing some foods that are already prepared and require utensils (get some disposable plastic ones).
Also remember to clean the area of the party before leaving. Like going to the beach, if bringing a couple of drinks, dispose of them in the trash can. When going to a stadium lot to party, at least clean up the trash you're responsible for.
Got anymore tips for tailgate parties? Let us know on Cape Coral CDJR social media.
Photo Source/Copyright: Shutterstock.com/Sean Locke Photography