The New 2020 Ram 1500 EcoDiesel is the Half-ton Diesel Torque Leader in America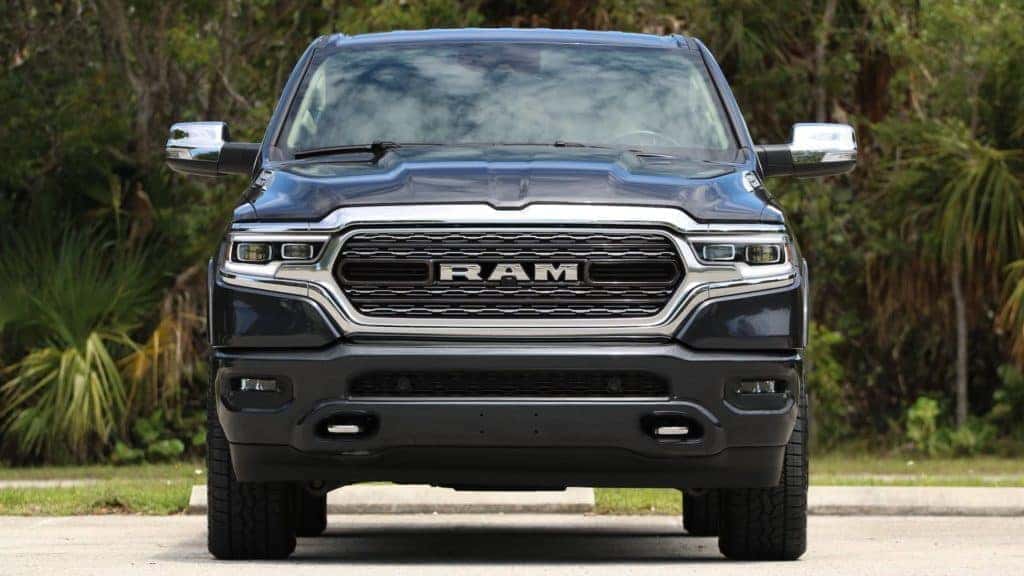 The 2020 Ram 1500 is on its way to becoming America's most powerful half-ton diesel pickup, with 480 lb.-ft. of torque available. It is also becoming the most capable light-duty diesel, with towing capability up to 12,560 pounds accessible. The all-new third-generation 3.0-liter V-6 EcoDiesel is also expected to lead the segment on fuel economy.
"The new Ram 1500 EcoDiesel is America's most powerful half-ton diesel pickup, following up on Ram's Heavy Duty torque leadership and achieving what no other manufacturer has, with up to 480 lb.-ft. of torque in a 3.0-liter engine," said Reid Bigland, Head of Ram Brand. "The all-new EcoDiesel engine and our eTorque mild-hybrid powertrain technologies deliver the highest available fuel efficiency for our Ram 1500 customers."
The 2020 Ram 1500 EcoDiesel comes in all models and configurations, which includes a first-time offering for the Ram Rebel. The 2020 Ram 1500 EcoDiesel goes on sale during the fourth quarter in 2019.  The pricing and fuel economy are to be announced closer to the truck's on-sale date.
The All-New EcoDiesel Engine:
The all-new eco diesel engine is a third generation turbocharged 3.0-liter EcoDiesel V-6 which delivers increased torque and horsepower. It also offers superb fuel economy and minimal levels of noise, vibration, harshness and it meets the needs of all Ram 1500 owners. On the 2020 Ram 1500, there is a 3.0-liter EcoDiesel V-6 which is rated as best-in-class with 480 lb.-ft. of torque at 1,600 rpm, which had a 14 percent increase from the previous-generation of EcoDiesel V-6.
Several changes have contributed to the new EcoDiesel's improved dynamic and fuel economy performance. The previous success on the EcoDiesel V-6's, the attributes and performance have made it a winner of "Wards 10 Best Engines". It has won for three consecutive years in 2014, 2015 and 2016.
The 3.0-liter EcoDiesel V-6 utilizes dual overhead camshafts that have four valves per cylinder and a 60-degree angle between the cylinder banks. The block has compacted graphite iron, providing strength which dampens the vibrations, it weighs less than grey cast iron. A compacted graphite iron bedplate adds hardness to the block.
The EcoDiesel V-6 utilizes a forged steel crankshaft and connecting rods for strength and durability. The aluminum alloy pistons are cooled on the underside via oil jets. Heat-treated aluminum cylinder heads use individual bearing caps to reduce friction and minimize NVH. The chain-driven overhead camshafts employ roller-finger followers.
Ram 1500
The 2020 Ram 1500 is the no-compromise basis for a technology, efficiency, and convenience features that have never been offered in a pickup truck. The Ram 1500 attributes up to 12,750 pounds of towing capability and 2,300 pounds of payload. Ram's eTorque hybrid system delivers improved fuel efficiency in both the V-6 and V-8 arrangement.
The new Uconnect has a massive 12-inch touchscreen. It features a split-screen capability, content from SiriusXM, and a 360-degree camera. It has active safety and security systems, which include adaptive cruise control, blind-spot monitoring, and forward collision warning.
The 2020 Ram 1500 has a five-year /100,000-mile Powertrain Limited Warranty. It covers the cost of all parts and labor needed to repair a covered powertrain component – engine, transmission, and drive system. The standard three-year/36,000-mile Basic Limited Warranty provides bumper-to-bumper coverage for the Ram 1500, from the body to the electrical system.
The Ram Truck launched as a stand-alone division in 2009 which focused on meeting the demands of delivering benchmark-quality vehicles and truck buyers. That leads the Ram to design the industry's most award-winning trucks, innovative, strength, emphasizing durability, efficiency, and technology.
The full lineup of trucks, including the ProMaster and ProMaster City vans, gets families where they need to go. From the no-compromise Ram 1500, it defines the future of pickup trucks with its highest quality materials, innovative design, and class-exclusive technology. The Ram Heavy Duty combines the ability to out-power, out-tow and out-haul every single competitor in its segment which offers the most comfortable ride and handling.
If you're interested in test-driving Ram models near Fort Myers, make sure to check them out at Cape Coral Chrysler Dodge Jeep RAM dealership.
Photo Credit: ramtrucks.com