Ram Heavy Duty Debut at the Detroit Auto Show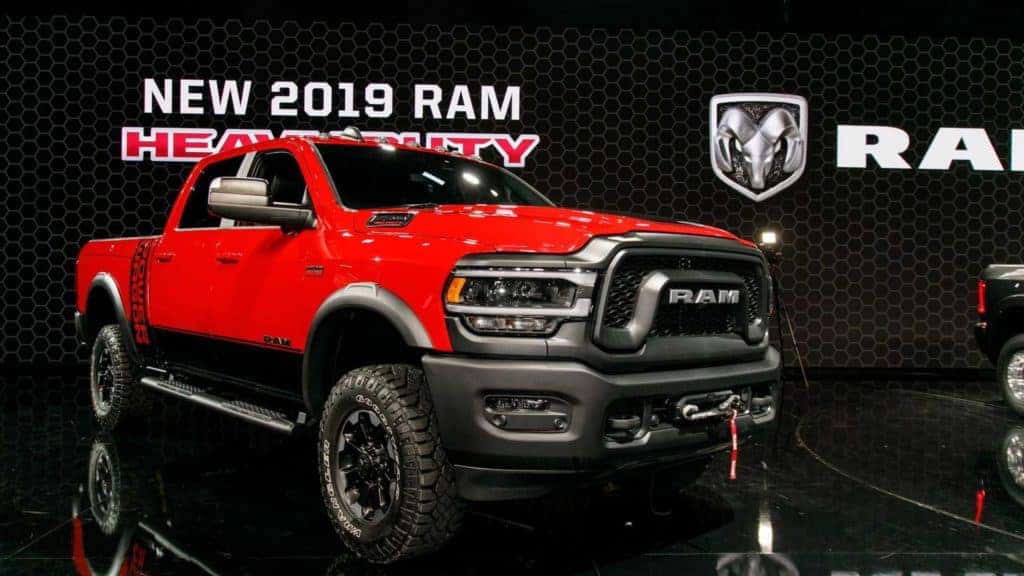 We were in the middle of the Detroit Auto Show- also known as the North American International Auto Show (NAIAS)- while writing this story. (January 14th- January 27th). The show's location was the Cabo Center in Detroit, MI.
The North American International Auto Show tagline is "Detroit is where future mobility innovations meet the pavement." At least that's how it's stated in naias.com.
In the last three decades, the Show's capability of introducing "bold new ways to enhance attendees' experiences and deliver exceptional value to media, industry and the public," as is stated on the NAIAS website, has not gone unnoticed. Every year, the show goes far and beyond to captivate its audiences by adding more lineups to the table.   
It was a week of debuts in the Auto Show as the New 2019 RAM HD (which stands for Heavy Duty) was introduced to prospective buyers and enthusiasts.
Among the other vehicles presented in the show, such as Toyota, Nissan, Buick, Dodge, Jeep, and Volkswagen, to name a few, was the highly anticipated RAM HD model.   
Many were looking forward to the new 2019 RAM HD models (which made its debut during the 2019 NAIAS). It's styled like previous models but bigger and beefier. Its familiarity with other RAM models comes into play when it borrows the headlights and taillight design from the new Ram 1500 light-duty pickup. The 2019 RAM 1500 light-duty pickup made its debut in 2018.
The vehicle's impressive factor is its 1,000 lb.-ft. (1,356 Newton-meters) for models equipped with the Cummins 6.7 -liter turbodiesel. It's earned itself the nickname "the most powerful, most capable pickup in the segment." Who would say otherwise with its 400 horsepower engine and towing capability of 35,100 lbs, and the weight capacity of 7,680 lbs.
That's a lot of numbers so let me break it down for you. This baby's got muscle.
The standard package brings the powertrain of a 3.6- Liter V6 24V VVT eTorque, 8- speed Automatic 850RE Transmission, 3.21 Rear Axle Ratio. The exterior brings an 18.0-Inch x 8.0-Inch Wheels, 275/65R18 BSW All-Season LRR Tire.
According to motor1.com, "The 2019 HD will also be available in Power Wagon trim that fills the needs of folks looking for heavy-duty hauling capability and off-road chops. It comes with different suspension setup, factory suspension lift, locking front and rear differentials, disconnecting sway bar, and a winch capable of pulling up to 12,000 pounds."
The RAM 1500 gives you the option of having five or six-passenger seating. Another neat feature that is included is its heating element. Those cold mornings will feel a little more comfortable with the electric heating that speeds up the delivery of warm air. You won't have any more excuses for getting out of bed in the morning on those terrible winter mornings if you're up North.  
From the previously redesigned RAM 1500, the 2019 RAM gets new instrument panel using upscale materials and a revised HVAC system that moves a higher volume of air while simultaneously reducing noise. Included in that, RAM has said it has lowered the ambient interior sound level by 10 decibels, making this the quietest HD to date.     
Along with those updates, the 2019 RAM also has an upgraded version of the six-speed automatic transmission used in previous models. It also has a fully configurable 12-inch screen with unique graphics keyed to individual RAM models. If watching Frozen on repeat is the only way to keep the kiddos comfortable don't worry as the redesigned center console provides enough storage to put 15-inch laptop out of sight.
A pair of Active-Tuned Mass Modules is included similar to those used on the 2019 Ram 1500 that help dampen the vibrations. Taking into consideration its heaviness the fact that it includes it is a huge benefit if you're a speedy driver or you're driving for long hours.
With its new upgrade, from the RAM 1500 model, there is a stronger and lighter front and rear axles, plus progressive springs and upgraded bushings.   
This year, because of inclement weather, the show had been postponed but fret not. Earlier in 2018, it was made public that NAIAS was thinking about moving the show later during the year and on July 24th it was announced that the 2020 NAIAS will debut on June 8th, 2020.
The all-new RAM 3500 has a starting price of $39,595 (plus destination fee).
If you're interested in this car and model, visit our Cape Coral location.
Photo Source/ Copyright: motor1