Ram Multifunction Gate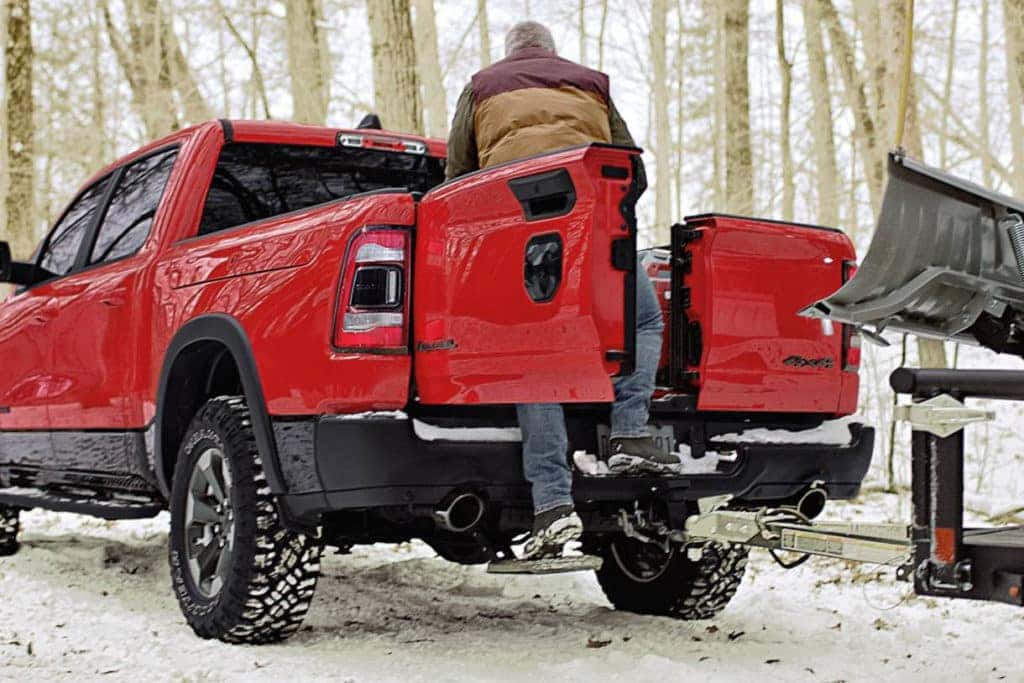 Come Spring 2019 Ram Trucks will add a new four-way tailgate that simplifies loading cargo in tight spaces. This will be offered on the 2019 Ram 1500 light-duty pickup. Let the countdown for the new four-way tailgate begin.
WHAT'S THE POINT?   
The feature allows owners to open just a part of the tailgate sideways when they don't have enough room to lower the tailgate. That can happen in a number of places and spaces, such as tight parking spaces or when a trailer is hooked up behind the pickup.
Tailgates became all the hype recently with its new invention–it can open up in six different ways to make it easier to load items, carry loads and access the bed, but it only has traditional bottom hinges. Truck manufacturers are outdoing themselves in the gadgets and features department. Designed to be one of the most technologically advanced pickups, the All-New RAM 1500 integrates state-of-the-art tech, device connectivity, and fourth-generation Uconnect systems.
The RAM 1500 has an available premium 7-inch Driver Information Digital Cluster Display brings information to life with full color, high definition 3-D graphics. Frame-mounted active tuned mass modules work together with the available interior active noise cancellation system to reduce ambient sound to provide the Best-in-class Interior Quietness. Don't forget you can stay charged and connected with ultra-fast USB charging ports and auxiliary ports.   
WHY BUILD IT?
The answer is quite simple. There is a demand for something easier. At least that's how the senior analyst describes it.
Stephanie Brinley, IHS Markit senior analyst, told freep.com that "pickup owners are looking for innovations and technologies that make their lives easier. Pickups are hot, and these deeply though-out advances make them easier to use. GMC's Multipro tailgate demonstrated the appetite for innovation."
HOW DOES IT OPERATE?:
Ram's four-way tailgate can support loads up to 2,000 pounds. Which makes it fully functional for carrying cattle, horses, and heavy gear. The added convenience of the tailgate is simplifying loading cargo in tight spaces.  
The brand-new tailgate has been re-engineered with two doors that swing open 88 degrees. Offering easier access to your bed while maintaining the robustness you need on the job and the field. The available Class-Exclusive RamBox Cargo Management System offers two lockable, drainable storage bins with LED lighting, plus new features like a 115-volt power outlet and remote access via the key fob.
The new 2019 Ram 1500 has a maximum cargo bed volume of 61.5 cubic feet, with dimensions perfectly sized to hold 4X8 sheets of plywood. Even with the Class-Exclusive available RamBox Cargo Management System. The all-new 2019 Ram 1500 incorporates features like available power side running boards and dampened tailgates to ensure easy access.   
The available nitrogen- and oil-charged dampened tailgate ensures an even, consistent assist in even the coldest or warmest climates. The available power-release tailgate with key fob control makes opening the tailgate easier than ever. Bigger, bolder and aggressive.
The new aluminum tailgate features an updated Ram Truck badge with bold geometric shapes, a strong border and "RAM" lettering in the new font. It also features a 60-40 side-by-side split as well as regular fold-down functionality. The Multifunction Tailgate option is offered on each of the seven individual 2019 Ram 1500 models and will be available at dealerships in the second quarter of 2019.
FOUR "CONFIGURATIONS":
Four "configurations" is the fancy name that Ram is using to promote the new feature but in reality, it is just the ability to open 2 doors in 4 ways. It can open flat, open the left door only, open the right door only or open both doors. With the 88° door swings, the retractable center-mounted step option further enhances access to the vehicle.  
It is important to note that this feature, the Multifunction tailgate, is an added extension. But remember it is a feature that adds even greater utility to the truck industry's cargo-management and storage leader. You can see it in action when it comes out this Spring.  
But until then if you're interested in test-driving RAM trucks, make sure to check them out at the Cape Coral Chrysler Dodge Jeep RAM dealership.
Photo Credit: ram.com