Seven New Vehicle Concepts Make Special Appearance at SEMA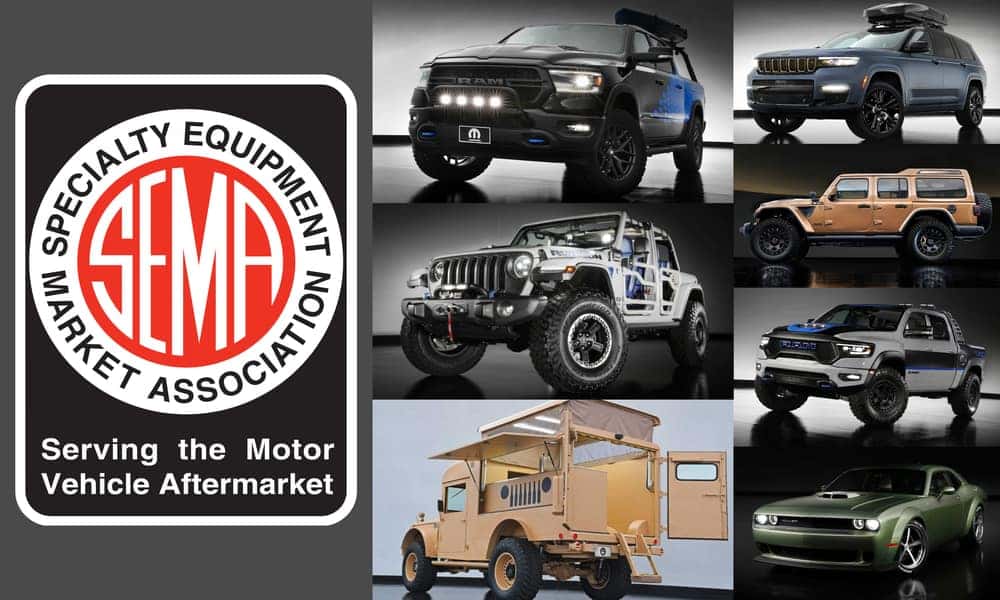 Mopar is introducing seven new custom concept vehicles at the 2021 SEMA Show scheduled to start on November 2. The four-day automotive event is home to hundreds of custom vehicles, aftermarket performance parts, and accessories. Mopar is one of the most well-known automotive equipment suppliers, and it's going to show off its lineup of concept vehicles to the public very soon. The brands behind the concept vehicles are American favorites such as Jeep, Ram, and Dodge. Ranging from SUVs, pick-up trucks, and muscle cars, there is a vehicle for everyone to see at the event. This article covers, in brief, all-seven concept vehicles highlighting their main features and details on what makes them unique.        
New Jeep Concepts
Jeep® Wrangler 4xe Concept
The Jeep Wrangler 4xe Concept features a JPP 2-inch lift kit with FOX shocks and rides on JPP Beadlock-wheels wrapped in BFGoodrich KM3 37-inch tires. It also has underbody rock lights that illuminate the ground below while driving offroad during the night. The 4xe concept's windshield is also three times stronger than a regular windshield because of its JJP-branded Gorilla Glass windshield. A pair of JPP 5-inch off-road LED lights are at each base of the A-pillars, and its "door-less" design makes it a fan-favorite among off-road enthusiasts. It features JPP tube doors in an Ivory Pearl color in addition to JPP rock rails.
Jeep Wrangler Overlook Concept
The Jeep Wrangler Overlook Concept is a three-row off-road Jeep Wrangler with various luxurious features and many JPP accessories. Several JPP modifications include a 2-inch lift kit with FOX shocks that makes room for 20-inch Black Rhino York wheels wrapped in 37-inch BFGoodrich KM3 mud-terrain tires. It also has Black JPP tubular side steps with molded inserts that provide protection and durability. Passengers inside the concept vehicle have better outdoor viewing ability because of its dual side and three front-facing windows above the second and third rows. In addition, there is also a removable one-piece rooftop that opens the view over the driver and front passengers.
Jeep Grand Cherokee L Breckenridge Concept
 Another third-row Jeep Concept is the Breckenridge Concept that rides on the body of a 2021 Grand Cherokee L. It features a custom, two-tone "Magnetite" and a gloss black exterior color with stain bronze grille slots and badging. The 21-inch wheels are just as appealing. They are a five-spoke design in a glossy black finish that evokes a sense of luxury and sportiness at the same time. A piano-black "Thule cargo box" is on the roof that sits on top of two Mopar crossbars and provides extra storage for skis or snowboards in a durable, hard-shell container.
Kaiser Jeep M725 Concept 
The Kaiser Jeep M725 Concept is a blast from the past because it is a vintage 1967 military ambulance transformed into an off-road machine. It features a Desert Tan exterior color and rides on 20 x 12inch, eight-lug Black Rhino Armory wheels wrapped in 40-inch tires. Its custom-designed roof panel over the cargo area can rise by 16-inches to create enough room for occupants to stand while retrieving supplies or serving food from the open driver's side rear panel.      
New Ram Pick-Up Truck Concepts
Ram 1500 TRX RexRunner Concept 
The RexRunner Concept rides on the Ram 1500 TRX platform featuring a supercharged 6.2 L HEMI V8 rated at 702hp and 650 lb-ft of torque. It has 37-inch Goodyear tires mounted to custom-designed 18 x 9-inch Black Rhino Chamber wheels. The exterior paint consists of an Ash Gray color with several blue accents and a center stripe that extends over the hood and roof. A Mopar-branded "RamBar" also features a pair of 14-inch rectangular LED lights that generate 4,300 lumens, perfect for offroading at night.
Ram 1500 Outdoorsman Concept
The Outdoorsman Concept sits on a Ram 1500 Big Horn Crew Cab 4×4 featuring a gloss black paint job with custom blue Mopar graphics. On the floor of the truck bed is a modified Expertec bed-slide system featuring dual rolling panels (each rated at 2,000 lbs) that makes loading and unloading tools, gear, and equipment more accessible. Each sliding panel also carries custom T-track rails and mounts to secure items in place. The concept also features a Mopar 2-inch lift kit with FOX shocks, which provides plenty of ground clearance for the 20 x 9-inch Black Rhino wheels. 
New Dodge Concept(s) 
Dodge Challenger Holy Guacamole Concept
The "Holy Guacamole" Concept is what Mopar calls its 2020 Challenger R/T Scat Pack Widebody 50th Anniversary, and it's giving it retro styling from the 1970s. The exterior has a custom green paint, a Shaker Hood Scoop, side stripes, 20-inch Forgeline wheels, and a Mopar coil-over suspension lowering kit. A wooden panel trim decorates the interior with its seats and door panels, favoring a green and yellow combination for the plaid inserts.      
If you thought Mopar's new concept vehicles were impressive, our on-site inventory of new and certified pre-owned cars is even better! We have more than 300 vehicles available for lease or finance at Cape Coral Chrysler Dodge Jeep Ram, your local multi-brand dealership offering the best deals! We have a large selection of Challengers, Chargers, and Durango SUVs at excellent prices. Check out our Chrysler Pacifica inventory and Jeep Grand Cherokee L-Series that make ideal family vehicles. But if you are looking for something specific, let us know via our contact form, and we'll provide you with more information. 
Image Source(s): Ram, Jeep, Dodge, SEMA