Spotted: The Ram Rebel Hellcat?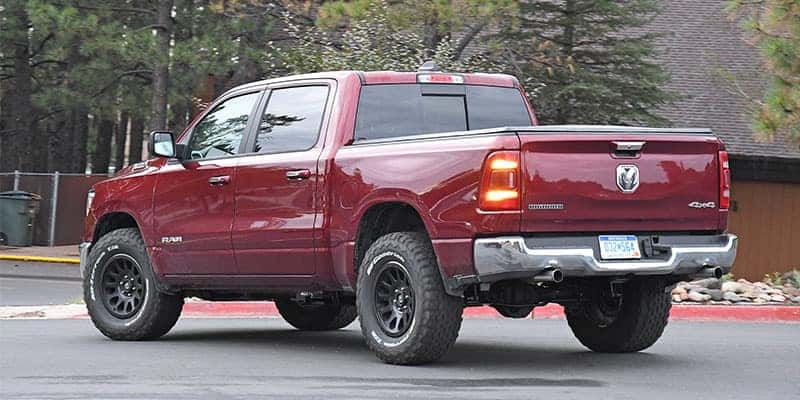 Fiat Chrysler Automobiles (FCA) debuted the Ram Rebel TRX, a pumped-up concept truck, at the Texas State Fair in 2016. It wasn't until June of this year that Ram confirmed that the truck will go into production for the 2021 or 2022 model year – no fixed date is available as of yet. Crafted to be more than a beefed-up Ram, the concept truck was restyled to be able to go off road over rough terrain at speeds exceeding 100 mph. The concept truck that Ram initially presented was outfitted with LED fog lights that are intended to help it navigate in low or murky visibility, while the grille was redesigned to increase airflow to the supercharged engine. A hood modeled after the existing Ram Heavy Duty trim was also added, meant to protect the hardware below.
Recently, a truck was spotted in Arizona by car spy photographers who reportedly heard the engine's trademark supercharged roar as it sped away – all signs pointing to a truck with the full Hellcat treatment. Photographers say that Ram used the Bighorn trim to test the truck (Bighorn lettering included) but they witnessed signs that indicate this truck was built to tackle more. The truck that was spied on was fitted with hefty BF Goodrich All-Terrain tires, King off-road shocks to conquer dusty terrain without a problem, and an underlying support rail attached to the bottom of the frame to provide the support a truck of this magnitude needs.
With Ram's earlier confirmation that this truck will go into production sometime in the near future, it's no surprise that spy photographers spotted what can easily become the real deal. The truck was testing alongside a Dodge Challenger Hellcat Widebody, a powerful muscle car that's powered by the roaring Hellcat engine, as is the Jeep Grand Cherokee Trackhawk as well. Truck enthusiasts will be happy to know that it's possible this truck arrives sooner than anticipated – these road tests could be pointing to a 2020 debut if we should be so lucky! The aggressive Supercharged 6.2-liter HEMI V8 engine is a signal that FCA is preparing to step up to the plate and manufacture an off-road performance truck to directly challenge Ford's F-150 Raptor.
What's there to look forward to?
While we don't know exactly what features of the concept truck will make it into the finalized pickup, we do know that the Hellcat-equipped Ram has to go big or go home. The Hellcat engine alone would make this truck the most powerful factory-engineered half-ton pickup ever made. The concept truck boasted an off-road suspension using a link-coil rear suspension system that's only available to the fastest off-road desert-racing trucks. Who's to say this suspension isn't a possibility for the real deal? Hopefully, the 4×4 Performance Control System showcased in the concept truck will also make it into the final product, allowing drivers to gain traction over five different terrain modes. As is customary with future vehicle plans, FCA does not make any comments unless it is an official and scheduled event. We're just going to have to wait it out it seems, but the Ram Rebel Hellcat is closer than we think.
Are you as impressed as we are with this Ram Rebel Hellcat that is in the works? Follow Cape Coral CDJR on Facebook to stay up-to-date with the latest Ram Rebel Hellcat news, and be the first to know when it hits the market.
Photo Source/Copyright: Trucks.com