Try This Sweet Potato Gratin and String Beans With Shallots This Thanksgiving
With Turkey Day right around the corner we're sure you'll want to impress – whether you are the guest or host. Lucky for you we've got the two perfect recipes that are sure to wow the crowd (and get people eating their veggies!), and a few other helpful Thanksgiving tips you'll be grateful for. Be careful though, these dishes are guaranteed to induce that post-holiday dinner slumber!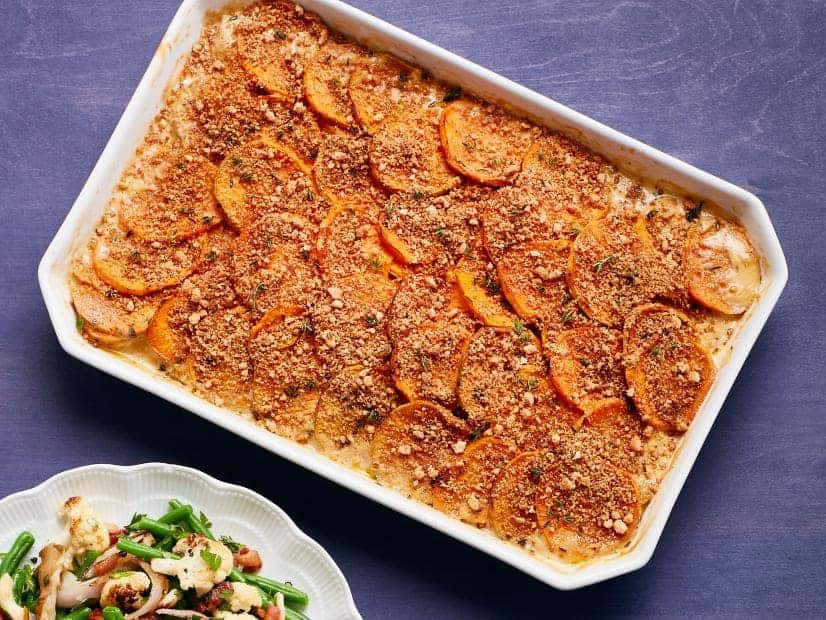 Sweet Potato Gratin
What you'll need:
6-8 medium sweet potatoes, peeled and sliced
2 cups of heavy cream
¼ cup of maple syrup
A pinch of cayenne
Kosher salt
¼ cup breadcrumbs
¼ crushed gingersnap cookies
2 teaspoons of fresh thyme
Cooking Instructions
Start by preheating the oven to 375 degrees F.
On a small skillet over medium heat melt the butter and add the breadcrumbs and gingersnap crumbs. Let them toast on the buttered skillet for about five minutes or until brown.
On a separate medium saucepan combine the heavy cream, maple syrup, thyme, and cayenne. Bring the mixture to a boil and remove from heat. Remember to salt to taste.
Take a buttered 3-quart baking dish and spread a single layer of sweet potatoes on the bottom. Follow each layer of sweet potatoes with about one-third of the cream mixture on top. Repeat potato and cream layers. Cover the baking dish with aluminum foil and bake for 40 minutes.
After 40 minutes have passed, uncover the baking dish and continue to bake until the cream mixture is bubbly and the potatoes are lightly browned and tender – depending on your oven temperature this may take another 40 to 50 minutes. Sprinkle the breadcrumb mixture on top during the last five minutes of baking to get the perfect crispy topping.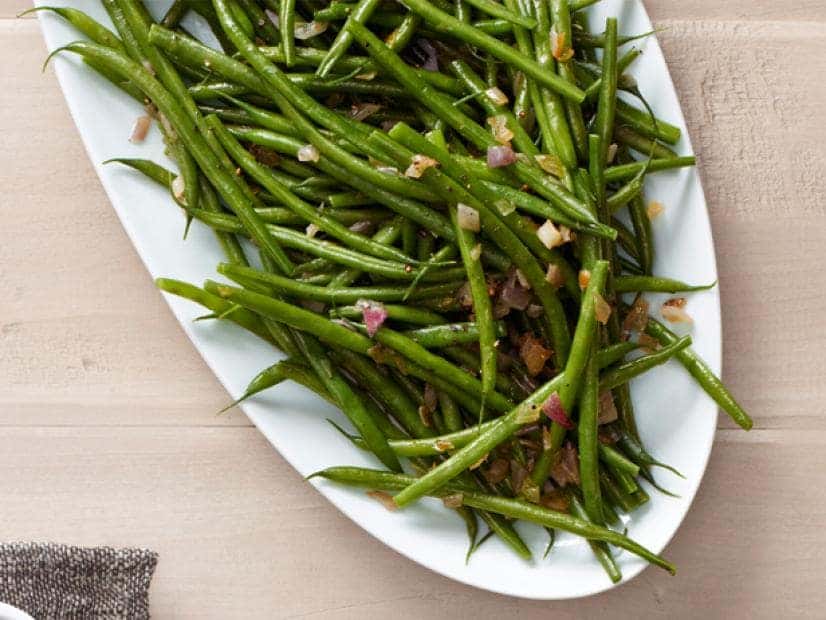 String Beans With Shallots
What you'll need:
1 pound of French string beans
2 tablespoons unsalted butter
Kosher salt
1 tablespoon olive oil
3 large shallots (large-diced)
½ teaspoon freshly ground black pepper
Cooking Instructions
Bring a large pot of salted water to a boil over medium heat.
Once the water is boiling, go ahead and blanch the string beans for 1 ½ minutes and be sure to drain them immediately and immerse them into a bowl of ice water. Voila, you now have blanched string beans.
Heat the butter and olive oil on a large saute pan and add the shallots. Cook over medium heat for 5 to 10 minutes, until lightly browned.
Drain the icy string beans and toss them in with the shallots, ½ teaspoon of salt, and ½ teaspoon of freshly ground black pepper. Be sure not to overcook the string beans and only heat them up until they are warm enough to eat.
If you find that you need to transport these dishes in your car these are the steps to follow:
Make sure your dishes have a lid. If they don't have a lid, secure the top with plastic wrap to avoid contamination, or worse – spills!
The safest place for food transport is on the floor of the backseat. Don't force one of your passengers to hold a hot dish all the way to your destination.
A great way to prevent any food item from rocking around the car is by placing it inside a bigger box that's been padded with towels for that extra bit of security.
Plan on making either of these dishes? Share your results with Cape Coral Chrysler Dodge Jeep Ram on social media. Or, if you've got any other helpful Thanksgiving hacks we'd love to hear them. Cape Coral Chrysler Dodge Jeep Ram wishes you a safe and happy holiday!
Photo Source/Copyright: Food Network