Will the Dodge Challenger be the New Ride for FHP Troopers?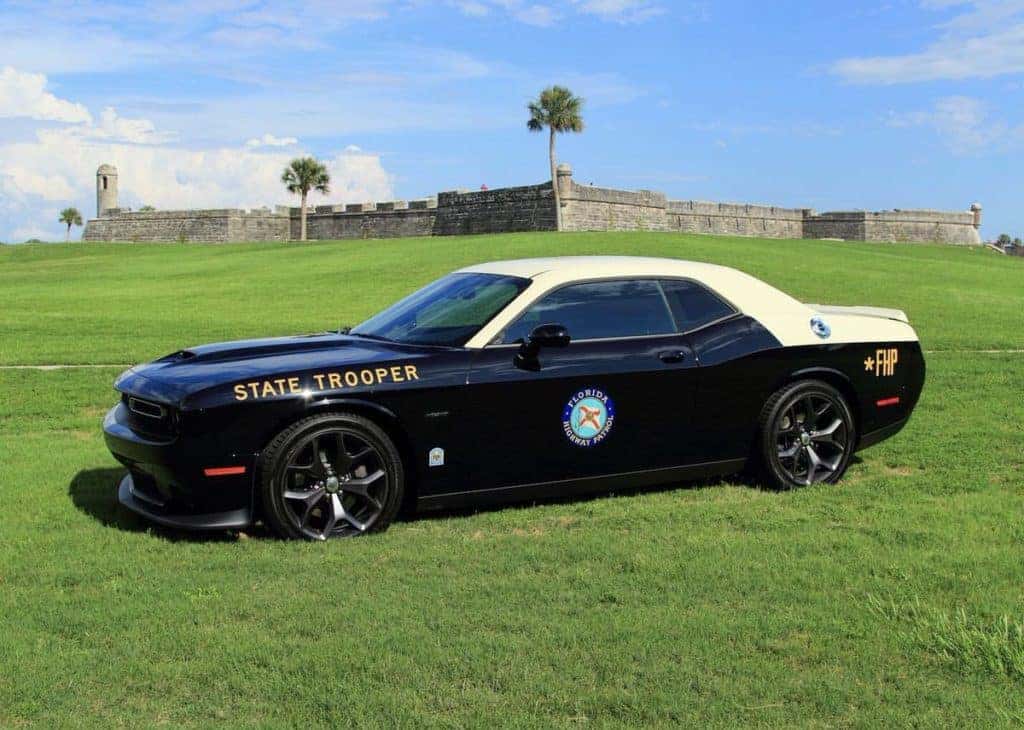 Highway wrongdoers better watch out in the state of Florida. Drivers will have to keep an eye out for a new patrol car from the Florida Highway Patrol (FHP) – a 2019 Dodge Challenger. It features the mandatory two-tone livery and decals, like all other patrol cars.
Details about the vehicle are almost nonexistent; however, if you look closer at the one photo that FHP Troop G from Jacksonville tweeted, it appears the Challenger is an R/T model. And if you know anything about Dodge's vehicle, it will make sense considering the tweet lists the engine like the 5.7-liter Hemi V8, which is good for 372 horsepower. Other features include Panasonic 360-degree HD cameras, and a vague "New lighting package," which likely means the car has traditional red-and-blue police lights, though we can't see any in the photo.
The output is more than enough for most, but it's important to remember that there are more powerful versions of the Challenger sold. Buyers can get the 485 hp, 6.4-liter V8 R/T Scat Pack or opt for the SRT Hellcat, with a 717 HP, 6.2-liter supercharged V8. However, it's the SRT Hellcat Redeye you'll want to check out closer if you're in dire need of more power, as its V8 develops 797 hp. 
It needs only 3.4 seconds to accelerate to 60 mph (96 km/h), and it has a 203 mph (326 km/h) top speed. It can run the quarter-mile in 10.8 seconds, at 131 mph (210 km/h). Maybe if FHP wants to catch those new 'Vettes that are bound to roam the highways in droves(relatively speaking, of course), they should consider those variants for their next purchase.
The tweet is followed by a warning from FHP: "As you can see, we take aggressive driving seriously! Please slow down, buckle up, reduce distractions. We are watching." Drivers should think of it as "police undercovers", where they don't know where there's police so cars and unsuspecting motorists should be on the lookout as well.  
While the FHP's 2019 Dodge Challenger is cool, it's far from being the coolest police car in the universe. The Austrian police force has a Porsche 911 that they cruise around. Nissan GT-R is ready in Japan's Tochigi Prefecture police department and the Italian police division love Jeeps. 
The Carabinieri police patrol in Italy drive around in a Jeep Wrangler. They also have a Ferrari 458 Spider and Lamborghini Huracán. The progression of police cars have come a long way since the Chevy Caprice and Ford Crown Vic era.
Additionally, with the usual Dodge Chargers and Ford Crown Victorias, the FHP has a long history of featuring some exciting and untraditional squad cars in its fleet. The list includes old Foxbody "notchback" Ford Mustangs, Chevrolet Camaros, and even the stray Datsun 280Z or Dodge Stealth. But now, there's a new sheriff in the fleet—well, sort of. 
Challenger Engine: An Untamed Lineup  
The horsepower starts at 305, which is the rating of the base 3.6-liter V6 engine. If you're wanting more power try one of the four available Hemi V8s. The engine options on an R/T include the 375-horsepower, R/T, 485-horsepower R/T Scat Pack, and 717-horsepower Hellcat.
The king is the Hellcat Redeye. It sources the discontinued Hellcat Demon's vicious V8, which has now returned to 797 horsepower and 707 pound-feet of torque. It can run a quarter-mile race in 10.8 seconds (at 131 mph) and has a top speed of 203 mph. 
Challenger Ride and Handling: Comfort Over Nimbleness
From the very first drive in the rear-wheel-drive Challenger, drivers will notice how much more comfortable it is to its rivals. This beast of a vehicle is surprisingly tame, thanks to its suspension system that absorbs most pavement imperfections and the light steering. It makes the Challenger easy to live with as a daily driver. 
Drivers can opt for an all-wheel-drive on the SXT and GT editions if the streets they drive are slippery when the weather turns sour. Dodge offers tons of performance upgrades for the upper trim levels. Included are launch assist, rapidly adjusting suspension system and configurable drive modes.
The Line Lock is now standard on the SRT Hellcat and R/T Scat Pack editions, which keeps the vehicle in place while the rear wheels spin freely. They are making it easier to heat the rear tires. And who doesn't like when companies make their life easier?
The Dodge Charger is a threatening enemy to highway wrongdoers. The conception of the Ford Explorer throughout the police department, fleets make even the most observant driver take notice of any dark-colored Explorer. Safe driving, everyone.
If you're interested in test-driving a Dodge Challenger model near Fort Myers, make sure to check them out at Cape Coral Chrysler Dodge Jeep RAM. 
Photo Credit: twitter.com