Holiday Gift Ideas from Mopar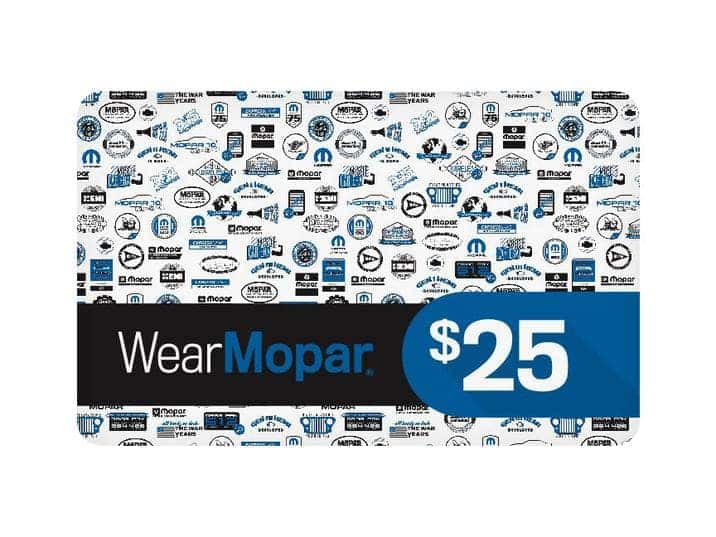 The holidays are upon us. Chanukkah 2018 started early this year and Xmas is already on its way. We know there's plenty of parents and automotive lovers out there who aren't sure what to get their fellow enthusiast or first-time driver. Every year we try to put together a list or two to help along the way, and the first list we have to chat up this year is sponsored by Mopar. Whether looking to add performance to an everyday street car or just looking to stay connected, Mopar has something for everyone.
In case you missed it, the 2020 Jeep Gladiator debuted at the 2018 Los Angeles Auto Show and Mopar modified the Jeep Gladiator to show its off-road prowess. Now taking a look at that, we're curious what kind of list Mopar would put together. With catalogs of more than 500,000 accessories, Mopar-branded gear, and vehicle protection plans, there's a lot to choose from.
Thankfully, holiday gift shopping with Mopar is easy. Like shopping online, go to www.Mopar.com, click on the "Store" tab to browse parts, accessories, and other merchandise, or the "Care" tab for information on the Mopar Vehicle Protection plan. If just looking to get some sweet swag, the promo code "MOPAR75" gets free standard ground shipping to U.S. locations with a purchase of $75 or more at checkout (Mopar branded merchandise only). Only valid until the end of 2018, be sure to use the promo code and make any holiday orders by December 10, 2018.12.10
Mopar Holiday Gift Ideas
Most of these are doable for the once-a-year all out holiday some families like to embellish in. We understand some of these other items might be a bit too expensive. It really depends on what we're buying, and for who.
Lifestyle
Hoodies for $49.95. Want to keep someone cozy and comfortable while sporting the Mopar look? A hoodie is the perfect idea.
When it comes staying connected, nothing is a buzzkill like a dead phone battery. For $64.95, you can get wireless airbuds and a 2000mAh power bank to keep devices charged. This power bank also comes with the "Mopar Garage" logo.
Travelling with pets for the holidays, or just often? Available in a variety of FCA vehicle brand logos, keep pets secure in a collapsible kennel. This kennel is made for keeping pets safe while in a vehicle -$190.
Know someone who likes HEMI engines? For $79.95, you can gift them a HEMI Neon Clock that features the Mopar "M" and HEMI logos.
Tumblers are cheap and easy, only $11.95, for that special someone who likes to keep a cold beverage on hand. Made with vacuum insulation, this tumbler is perfect for transporting refreshments.
Performance Parts and Vehicle Accessories
Remember the Hellcrate? That 6.2L Supercharged Crate HEMI engine is still available and can be yours for $20,020. Just remember it's designed to upgrade "classic cars" to the 707 horsepower of an SRT Hellcat. For those who want an easy plug-and-play installation, the Hellcrate engine kit costs an additional $2,265.
That modified Jeep Gladiator comes with a 5-inch Jeep Performance Parts (JPP) LED light kit (475) and a JPP snorkel ($665), amongst other modifications. Those and other JPP products are available for diehard off-roader enthusiasts shopping at Mopar.
Know someone with a truck that travels with lots of equipment? We got three items to help with that list. There's a truck bed storage system ($1400-1450) that adds dual sliding drawers, providing lockable storage space for gear, supplies, and tools. If travelling with larger items, a lifestyle carrier ($175-$575) may be the better option, made for bicycles, skis, and other cargo. Or do they just need to keep everything secure and away from prying eyes? A variety of Mopar tonneau covers, including one-piece, hard folding, and soft roll-up options go for ($450-$1,400).
Unsure?
If still not sure, it's hard to go wrong with a gift card. WearMopar.com has gift cards for $25, $50 and $100 to shop online for Mopar gear and apparel.
If shopping for a new driver, then don't feel the need to go all out. Get some peace of mind with a Mopar Vehicle Protection (MVP) plan. They have options that range from Road Hazard Tire/Wheel Protection with full repair or replacement coverage for all four tires/wheels damaged due to road hazard conditions (starting at $390). They also have a Maximum Care factory-backed mechanical protection plan that goes beyond the factory warranty on over 5,000 components (starting at $1,020).
Have other ideas for someone who loves their car or car-related swag? Let us know your ideas on Cape Coral Chrysler Dodge Jeep Ram social media.
Photo Source/Copyright: FCA Media