Understanding the Dodge Performance Pages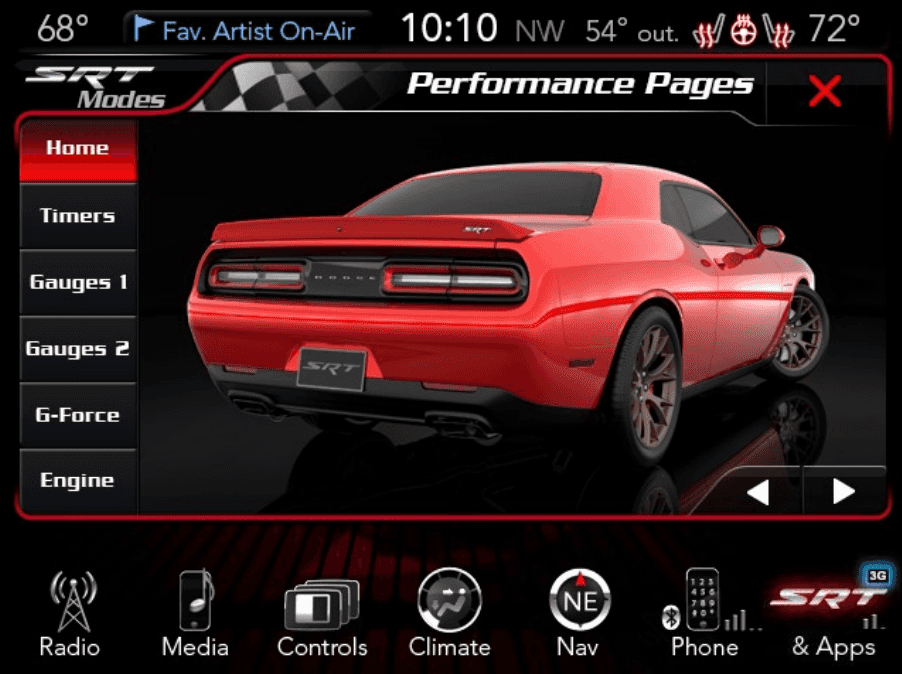 With the 2019 Dodge Challenger heading to dealership lots, and Dodge having recently opened up the 1320 Club on Dodge Garage, we feel there are some things you should know about the new Dodge Challenger. The 1320 Club is made for drag-racing enthusiasts, and any muscle car owner that likes to burn rubber and test their speed will be itching to join the leaderboard and get some swag for their accomplishments. Along with record slips and decals for matching certain records for speed and lap time, we think 1320 Club members may actually wish to show off their measurements in Dodge (SRT) Performance Pages. We'll show you how to do that today.
Access the Performance Pages
Sometimes referred to as Uconnect, Dodge, or SRT Performance Pages, the easiest way to access this app is from the "Apps" menu at the bottom of the touchscreen. If your vehicle doesn't have a touchscreen, then you don't have performance pages. After touching "Apps", select "All Apps", and then "Performance Pages" should be visible. Find it, click it, and the Performance Pages home screen will pop up, displaying its respective vehicle, like the above image.
Finding Performance Page Measurements
Along the left side of the screen are six tabs – Home, Timers, Gauges 1, Gauges 2, G-Force, and Engine. Guess what each tab is for. The tab for "Timers" displays run times, "Gauges 1" and "Gauges 2" deal more with vehicle components and their conditions, "G-Force" is for drivers who want real-time data, and the "Engine" tab is like a digital speedometer with more data. Each will have measurements drivers can save, upload, and share to brag about their latest feats.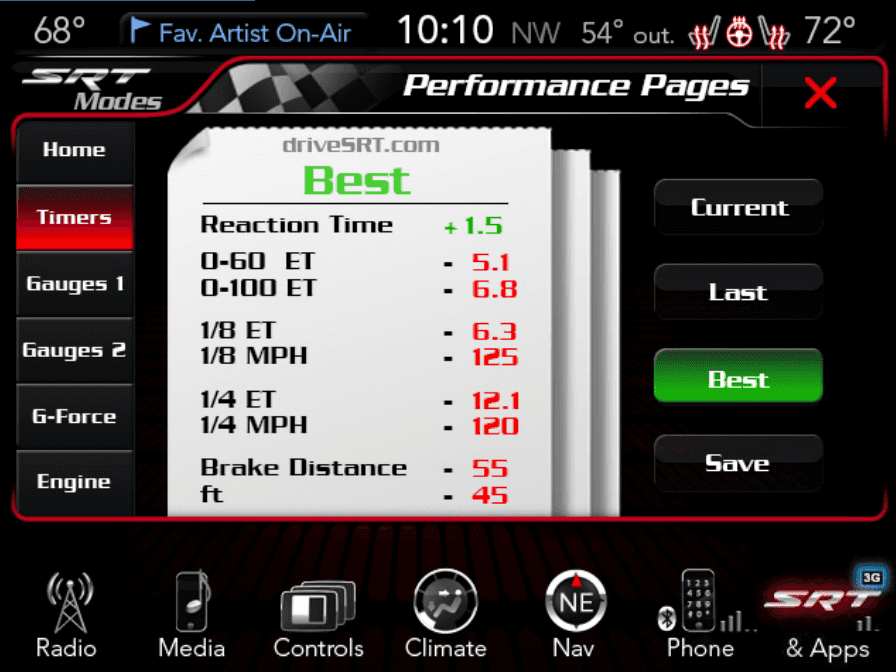 Timers
Designed for drivers who want to challenge the run times of their own Dodge vehicle, this tab is great for doing just that. Drivers can hit the runway and get their "Best", "Last", and "Current" run times. There is a page in this tab for each, with the following data: Reaction Time, 0-60 mph acceleration, 0-100 mph acceleration, 1/8 mile time, 1/8 mile mph, 1/4 mile, 1/4 mile mph, Braking distance in feet or meters, and Braking speed in mph.

Gauges 1 and 2
We don't expect many drivers to fiddle with these tabs that much. Enthusiasts and drag-strip racers may understand and find the information displayed in these tabs more interesting than the average driver, though. The Gauges 1 tab displays the Oil Temperature, Battery Voltage, Oil Pressure, Transmission Oil Temperature (automatic transmission only), and Coolant Temperature of the vehicle. Gauges 2 displays the Car Battery Voltage, Transmission Oil Temperature (automatic only), Coolant Temperature, Intake Air Temperature, Boost Pressure, Intercooler Temperature, and Air Fuel Ratio of the vehicle. The last three were first only found in the Performance Pages for the SRT Hellcat and SRT Demon, but will most likely pop up in the app for the SRT Hellcat Redeye for 2019.
G-Force
We expect this will be another favored tab of drag-racing enthusiasts. Designed to measure vehicle dynamics, drivers will find more than just run times here. After a drive, or during (though not recommended), drivers can view their Vehicle Drift (displayed by a graphic that adjusts based on the vehicle's movement), Current Speed, Steering Angle (measured by the degree of the steering wheel), Lateral G-force (measurement of the left and right turning force of the vehicle), Longitudinal G-force (measurement of the acceleration and braking force of the vehicle), Peak G-force (the highest G-force measurement encountered), and a G-force Visual of the current amount of G-force produced (lateral or longitudinal).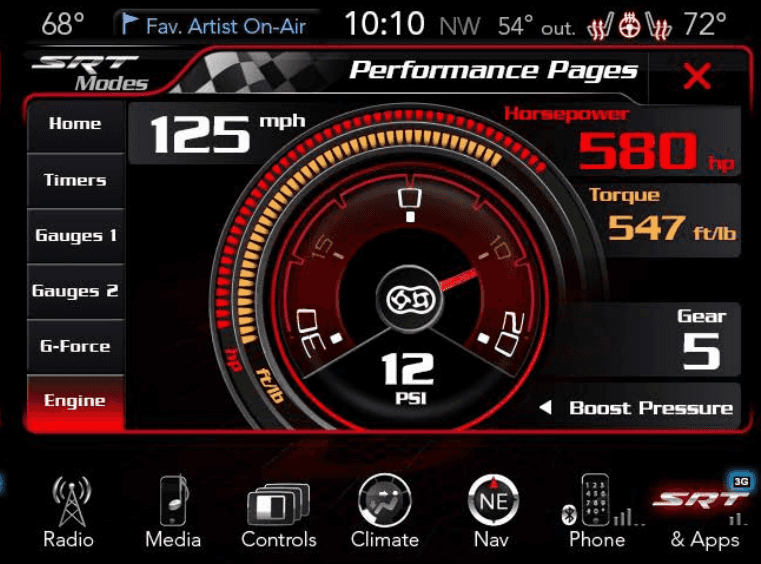 Engine
Last is the engine tab. Think of it like a refined, digital instrument cluster. Displayed on this screen are the Speedometer, Horsepower, Torque, Oil Pressure, Current Gear, and Boost Pressure.
Now that you can understand each of these a little better, join the Dodge 1320 Club and use the hashtag #SaveYourSlips to share run times on social media. Find your new 2019 Dodge Challenger at Cape Coral Chrysler Dodge Jeep Ram and send us your times on social media for a little bragging rights.
Photo Source/Copyright: Mopar